Hi all,
I am going to use this thread to keep track of my enclosure and it's progress. I laid out the plans for it [on the ground] and most of the post holes are dug at this point. This first group of pictures were taken before I started on the post holes. String is laid out here for post hole locations. We have three more holes to go. It is going to be 20 x 20 with a three foot gate.. It is going to be at a little mountain cabin we bought in SW Missouri that also requires work in order to be move in ready. So we have several projects we are doing at the moment.
But we are going to love it when we get it done. It will house 18 cats and probably one dachaund....[cause she will fit through the kitty door and she thinks she is a cat]..
It's hard to say when it will be completed because hubby also works two jobs, but as long as we plug away, progress will be made.
This is the kitty door getting sheetrocked in. It is under our bedroom window so from the bedroom we will be able to see the cats at play.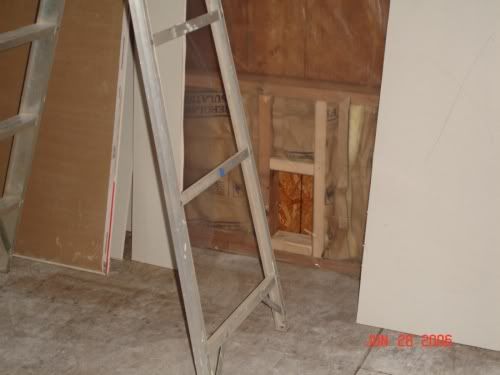 This is taken from what will be the rear of the enclosure. String is laid out but it is hard to see this in the picture. The enclosure starts just on the other side of the tree.Eventually after we finish the first area, we want to expand futher in this direction. The dirt portion that you see in this will be roofed with something. This area will be 10 x 20. Husband want to put fine gravel under this portion of the enclosure.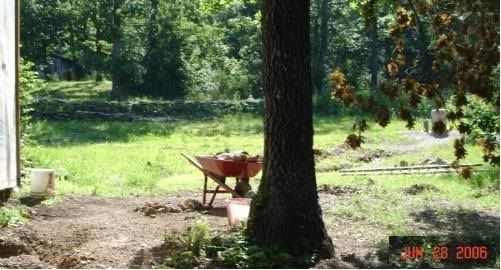 And this is the rear view of where the enclosure will be. You can see the same tree here. In the front of this picture, if you look close, you can see a wooden marker. This is the middle of the FRONT of the enclosure. The gate will be just to the right of it. And the side are 10 feet out from either side of the marker. On one side, this goes to the house line so you can get a pretty good judge of the distance. The other side runs out of the photo.When we expand it, the three foot gate will be the entrance to another room.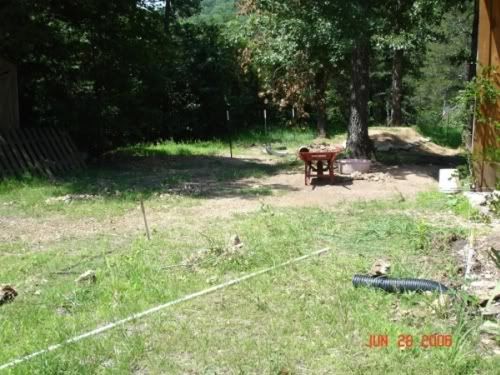 We have only just started but I wanted to use this spot to keep a running tab of my progress on this...
All suggestions welcome ...... This is my/our first attempt at an enclosure.
Also, this is Cribbs Mountain. This is and will be the cats view of their new world when we eventually get moved out there. This is going to be where we retire. My 5-7 year plan is to be OFF THE GRID as well.. We want to be totally self sufficient. Electricity is the only thing left. We have no gas or water bill. We plan on one day also having a battery house and a windmill on a 120' tower. That would work since average wind speed in Missouri at 120 feet up is 14 mph... We have two wood burning stoves and a propane tank for backup. It is so far out, we can't even get television service or internet. We will be the satellite people. But we will have CH/A. Neighbor down the way is an airconditioning man in
Springfield and they spend weekends in their cabin but they have no running water or septic there.. He is going to hook on to our well for water and is giving us a new CH/A unit plus duct work for a trade. Sounds like a deal to me.
Jenn