Quote:
Originally Posted by ccoccocats
WILL YOU BE MY VALENTINE?

My name is Angel and I'm looking for a Valentine! Would you be mine?
A little about myself: I'm 8 1/2 yrs. old. I weigh 10 lbs, very muscular, tall, dark, and handsome, if you will. I'm pretty much a simple type.
I have, what seems to be, a pet store of toys and scatching posts of all types and sizes. So I'm very athletic.
You can let me know by telling me a few things about yourself.
Things like: ways you like to play around
, or, where you like to go to spend some "quiet alone time"
.
If you'd like, you can show me a picture of yourself
(not that us Black Stallions base everything on looks!)
Please, won't YOU be mine?
*Leo sits on meowmy's computer tabel. starts typing*
Dear Angel,
My name is Leo and I am quite younger than you but I'm very mature for my age. Angel, with a name like that I'd think you're a girl kitty , but if not , thats okay too! Who says we can't still be valentine buddies?
I LOVE playing with scratching posts and I enjoy walks on the banisters in my meowmy's house, I also enjoy wet cat food and catnip.
In my spare time when I'm not running back and forth upstairs from room to room or sleeping or playing with meowmy, I enjoy curling up in chairs and watching a bit of TV.. most of the time it's HGTV...
If you wanna get together and get crazy with catnip, paw for me!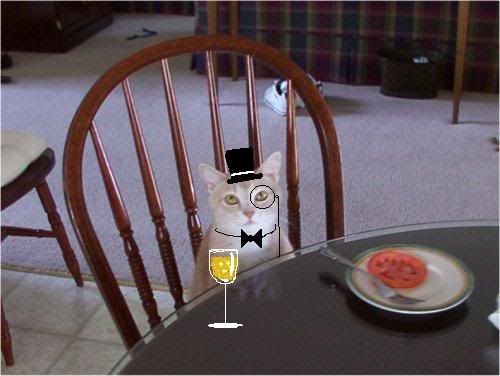 -Leo