My Shetlands have arrived, in the pouring rain, poor things, but here are some pix: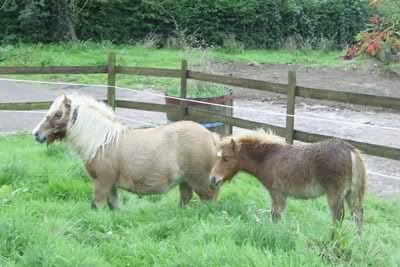 The mare is called Maisie. Her filly foal is four months old and has no name yet. Because of the French habit of allotting a letter to a year, her name must begin with 'T'. Any ideas, folks?
They are so small and sweet, and a bit nervous. I left Maisie's headcollar on so I could catch her later to worm her, but I thought I would let them have a few hours to get used to a new field. They wouldn't come near me of course, until I sat down in the field for half an hour ignoring them, with a bowl of carrot and apple slices. Then slowly Maisie came, the foal behind her, and in another twenty minutes she was eating out of my hand. The foal would only take bits from the ground so far - she is much more nervous. Funny how what works for feral cats also works for (almost) feral ponies! So I have my work cut out. The vet and farrier will come next week, when they are a little acclimatised. FYI, I got them from a BYB who is closing down - these poor ponies have been left in a field (with others) for three years with no vet or other care, and left to breed indiscriminately. The little stallion, who is a sweetie, is still there, but I have said it would be too much for me to take him on too. They have no papers or anything and I will keep them as pets and to graze the field, which I have carefully divided so they don't gorge themselves, as the grass is still very long and surprisingly lush.