I am half dead today. I worked way too hard. But I nearly have the land ready..... It is taking more than I thought. I have to get it clear so I can throughly treat it for ticks and stuff. I put a few big tree trunks in it for them....
Here's a progress pic.... The ground has probably NEVER been exposed before. It has been in a natural state for as long as they woods have been there. This week clearing it, grass is already growing. The ground/dirt is very rich... And for some reason not as rocky as the front. Which I might add is rock free now. The last two weeks have been rough as far as clearning, cleaning and de-rocking for spring and lawn mower season. The enclosure is going to go to the large tree in the left part of the pic. The one leaning to the left. The big tree with the rocks around it is going to be in the enclosure. The new area measured out is approx 20 x 35-40. We are doing wide and not long so we can put 20 feet of dog yard behind the cats. The dogs will have three side of the cat area in their yard. The only part that won't be connected to the dogs is the front, which is in our front yard. After the cats are done, we are clearing the other land for the dogs so their yard will be larger too... That is our summer project. And also... if anyone who has read previous stuff, this was the "outhouse area" and this is the area of the woods that were behind it..... It looks so good now.. It had many back breaking hrs put into it and there are many more to come. Hubby wishes he could help me but he just can't right now. He brings me water and tells me to take breaks. He told me today I am tenacious.....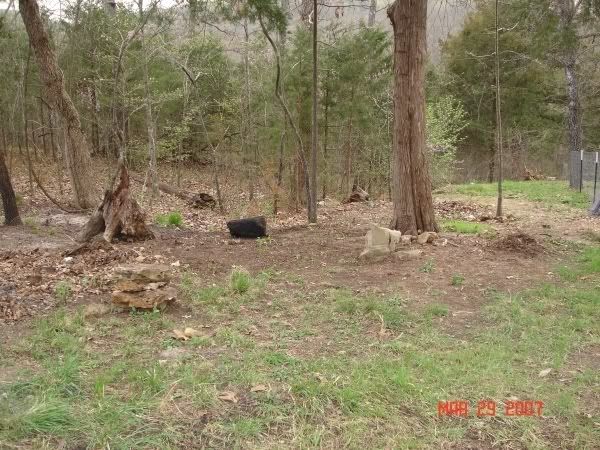 And here's Charlie hound today.. They love watching me work. I have already prepared the back yard for new grass.....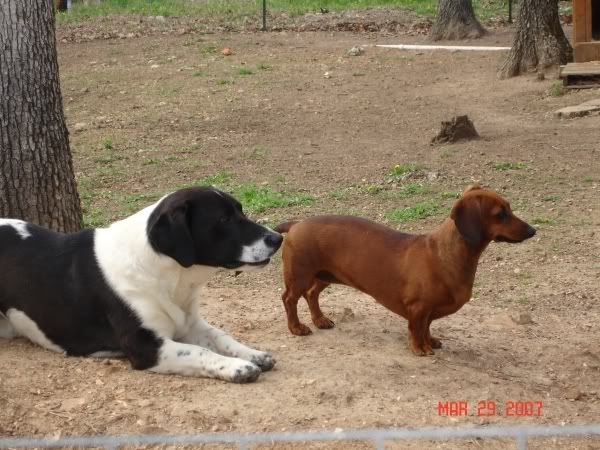 And my molly.. She has always ran off when we let her out but eventually comes back. Today I let her out solo with me off leash. She promply ran off down the dirt road where a 5 lb dog ran her back home.... hehe.. I am serious.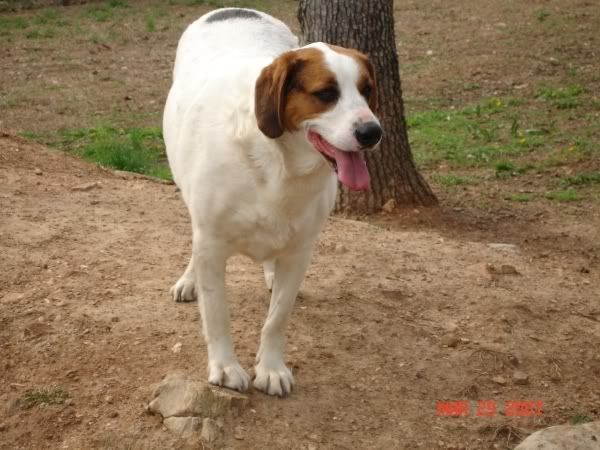 Didnt' 'take any of emma.... She was out with me.
And this is the future dog yard where we are expanding them. They get all of this and then their yard will loop behind the enclosure and on around to the other side.... I feel comfortable with that.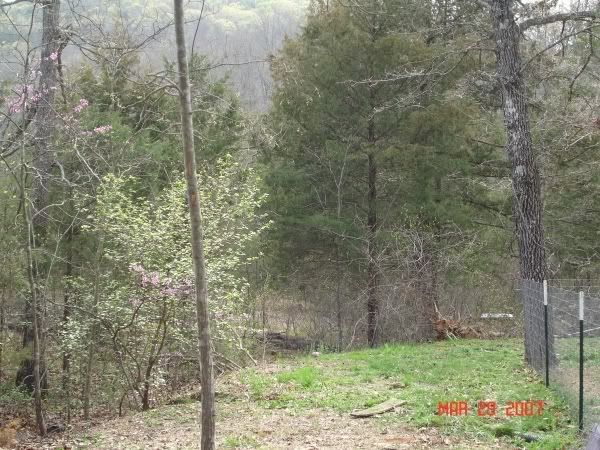 And here is Yellow Man waking from his nap...... He can't wait for his enclosure to be larger... He is one of the reasons for the enclosure. He likes to take 6 week vacations. He will never be loose again... He is a rough old tomcat but he is very sweet. He sleeps with hubby every night snuggled up...
Spring has sprung.......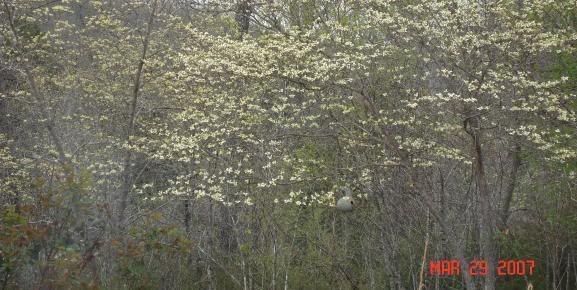 ok.......... that's all for today......
See ya all, Jenn