kitty land is coming along fine.......... I can't work on it tomorrow because I have to work 12 hrs. I have been slaving away about 3 hrs every morning before I go to work. I nearly have everything de-rocked and raked...... That I do believe has been the hardest so far.......
My blisters have blisters.
what we have decided to do is this. Since the enclosure now is 10x20 and 10 feet tall, we are going to go straight out with it to approx 10x60 or so.....
The inside fence line will be a temp fence or a stand alone fence so I can add another 10' section running down the same way...... to make it 20 feet wide.
Then we will add another section to make it 30 feet wide and just keep doing this.
The length will remain the same. But the width will keep changing by 10 feet. As we add a section we will just keep removing the outside fence line leaving the poles for support so we can add new wire for the top.... This will be the easier way for the building of it and the quickest to get them more room. Getting the land ready while working full time is the hardest part.
It will be easier to get the posts straigh that way.... If any of that makes sense.
We also have a hugh cedar tree 50' tall or so that Juan is going to cut down in the next couple days. We are going to cut the branches so they will fit in a 10 feet area and we are goign to lay the tree in their enclosure so they can play in the branches.
They will have running room as it widens later. I think they will really like branches to climb in. It is a big strong tree. We are going to leave the trunk in the ground approx 6 feet tall so they can jump on it.
I want to create a yard for them with things to climb that are natural......
And eileen ........Jimmy is doing great. don't have any new pics of him. I'll get some in the next couple days.
I traded a day today so I have been working fast and furious on the yard and kitty land....... I like the ground where th eenclosure is going to be because it is good dirt. Post holes are easy to dig in this area. Since I have been clearing a large area, grass is already trying to grow there. I am leaving some of the huge rocks too for them to sit on. Making it snake proof is going to be a job. I am goign to have to buy some sort of garden fence to put around it. A mesh of sorts than a snake can't go through. I am dreading snake season. I have been raking rocks and raking leaves so the ground is clear where I need to walk. I am eliminating dens or trying to.....around my house before it happens.
As of right now, I am in the house but a few mintues ago, the dogs were raising cain and all the cats made a mad dash inside the house... Fear........... So I went outsdide with a flash light. My heart was pounding but I managed to get a flood light plugged in to the ouside socket. I did not see anything so I went into he back yard with the dogs and my flashlight. I walked the fence lines and saw eyes. I walked back to the house and got my camera and the eyes were still there. I lightened one pic of them but I can't see what it is......
Any ideas? Where we had the one bedroom trailer out back is where this was taken. The trailer has been knocked to the ground but we have not cleared the debris yet, so there is a lot of tin and wood back there. It is about 50' from where I took the picture. I took several more but no eyes were in them. I could also hear something on the tin rythmically hitting the tin. It was spooky..
Check these out. I MUST get that motion camera... I just have to!!!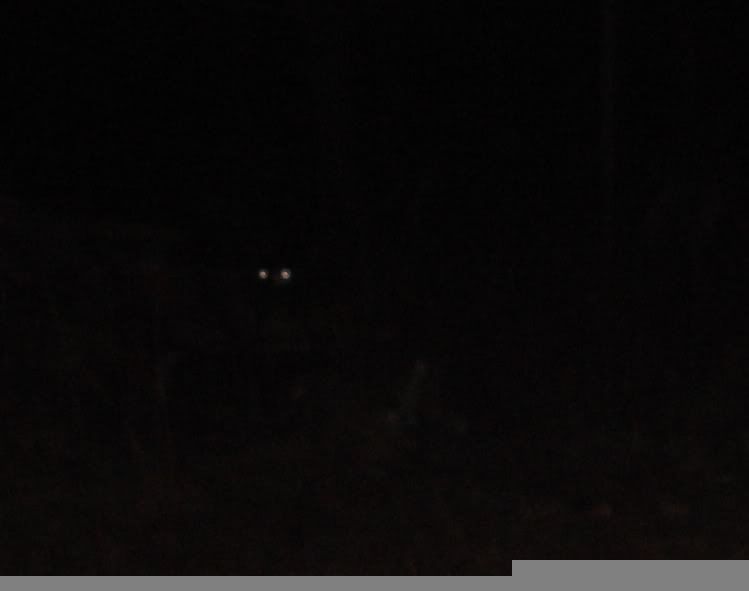 I just can't tell what it is. It could be anything. But what ever it was, it was not afraid. It was watching me too. Juan is going to flip when I tell him. I was also standing uphill from this. These eyes were low to the ground by a tree. when it is daylight I will go look for tracks by the tree and see if anything is there. The ground is hard so I am not expecting to see anything.