hi i'm victoria from sheffield england, i'm 22 & owned by one very loving kitty called pisces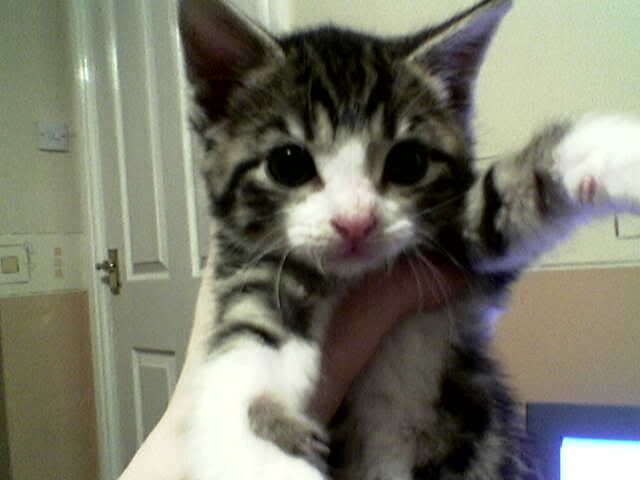 this picture was taken when he was still kitteny small, he's a bit bigger now he's 14 months old but still a smallish cat.
he's a very loving cat & loves to snuggle in to my arms & in the bed with me as he did when we was a baby. i hand reared him (& his sister) from being 1 1/2 week old after a freak accident killed his mother. he loves going outside in the garden to catch flies, he like to sit on the high brick piller for the 12ft high wall & keep guard over our house & garden. he also loves to tease the next door neighbours dog, i think its a very much a love hate relationship with them two. pisces keeps the dog company & the dog keeps the streets 'bully' cats out of the garden when she is out in her yard.
pisces also has a buddy called tattoo the turtle that he likes to follow around the house when he is out of the tank. i always thought that pisces would try & attack tattoo but i actually think that the cat is more scared of the turtle than the other way around. pisces knows that tattoos bite is worse than his silent bark as he bit his tail once so now pisces keeps his tail firmly tucked away when tattoos out.