more Chichi and Murphy pics
birdbrain enthusiast

offline
2,567 Posts. Joined 9/2005
Location: STL
Missing Averee my Angel

offline
3,091 Posts. Joined 8/2005
Location: Wisconsin
They are so beautiful!!!
Everything belongs to the Cats!

offline
6,784 Posts. Joined 1/2004
Location: Emerald Coast of Florida
Oh, that first picture is a good one!!!
offline
319 Posts. Joined 9/2005
Location: Wigan, England
birdbrain enthusiast

offline
2,567 Posts. Joined 9/2005
Location: STL
Hi Tigger
cutie pie
Cabell's Proud Mommy

offline
6,453 Posts. Joined 1/2005
Location: Savannah, GA
Quote:
Originally Posted by chichismom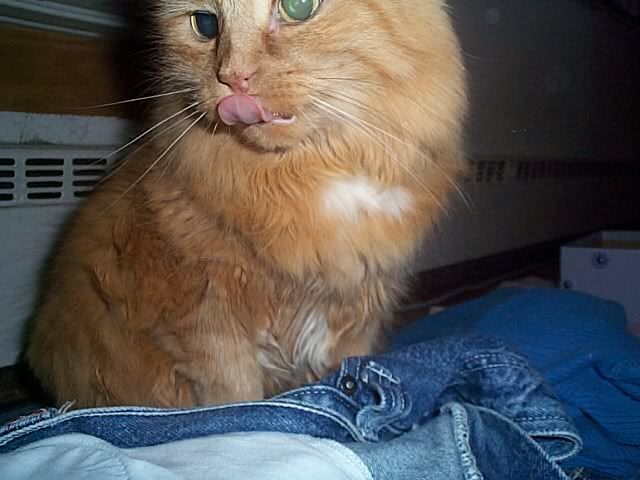 Oh my-looks like he's about to be up to no good! Cute pics
Purrsome Pair

offline
19,077 Posts. Joined 9/2003
Location: Denton, TX
Quote:
It always gives me a shiver when I see a cat seeing what I can't see
i love this quote - Cable was doing this last nite
your guys are so handsome - can't wait for more pix!
Human Slave

offline
3,239 Posts. Joined 4/2005
Location: St Thomas, Ontario
They are both adorable! I am especially liking the orange one, but I love orange ones more.. its like an obsession
birdbrain enthusiast

offline
2,567 Posts. Joined 9/2005
Location: STL
Thanks everyone for the compliments on my booger babies
I will be taking more pics this weekend so be on the lookout monday morning
Human Slave

offline
3,239 Posts. Joined 4/2005
Location: St Thomas, Ontario
whoo! and now I know I am not the only one who calls some kitties boogers