Quote:
Originally Posted by LaceyDF
aaaaaaaaaaaaaaaaaaaah! I just found this thread! How in the world could I have missed this!?!?! Well, when I saw a new kitty on your signature, I was like, "WHAT!?!?!" and I searched the threads you have started and found this one!

WOW! Max is SOOOO cute! I love how they both have white feet! I had no idea you were searching for a new kitty!

My favorite picture you've posted so far is the one where Bay is sticking her paw under the door! That is SO cute! That's what Juicy does when Noodle (my ferret) is in the bathroom playing! LOL!

I am SO happy for you, and your BF! I can't wait to hear more from you and see more pictures!!! How about a picture with Max and his new mommy, since I don't think I have ever seen a picture of you, Ari!
Hey girly! Well, I was always searching for a new kitty but my boyfriend fell in love with Max (a 6 year old cat) and we HAD to have him. He is such a sweet guy... and I think my boyfriend is nervous that he likes me more!
I'll try to get my bf to take a picture of him and me, but for right now here's a picture of me and an angry-looking Baylee: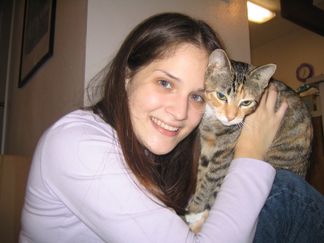 (Man Max is gonna be mad that Baylee is taking over his thread! I better try to get more pictures of him up here fast!)
Oh and there hasn't been anymore hissing yet... we let them meet a bit and now they have supervised visits. So far it's going pretty well... no hissing, just what looks like playing (they run around after each other) and a lot of sniffing!