So here are the pictures and the full details of our wonderful SS pressie from Clixpix!
Here is the box as we just opened and took off the bags of air.
One thing didn't make it.
The bottle of catnip bubbles perished in transit.
Odd thing is, there was no top of the bottle in the box. May be why the box took a little longer than expected to get here. Kitters did love sniffing it though!
Here are all the pretty wrapped presents out of the box.
Kitters got a kitty pad, it is orange and black and has animals all over it that are tiger stripped. She thinks that is soo soo cool!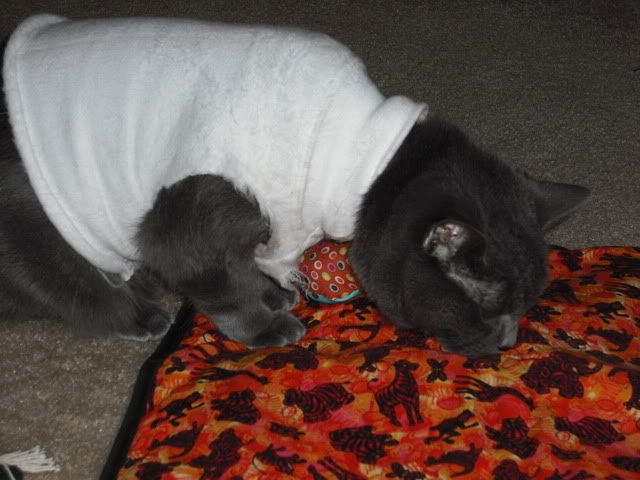 Here is everything we got all unwrapped!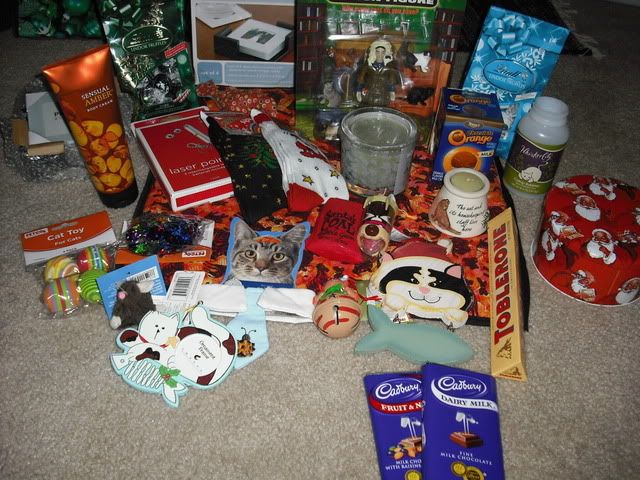 We got Tolberone, (never had it before but always wanted to try that!), a Chocolate Orange, 2 bags of Lindt truffles, (a chocolate with white cream and a dark chocolate with peppermint
) 2 cadbury chocolate bars, a bag of coal gum, a reindeer toungue pop (that's silly), a Bell ornament (that Kitters has been having fun wacking at on the tree already), a wooden cat picture frame ornament, a wooden cat ornament/decoration (I hung that on the door handle of the front door right next to the tree), an Ikea candle Norreskog (North Forest), (ohh my... that smells SOOO SOO GOOD!!!), a Cat candle pot (That says Cat Lover on it), a Tin of homemade fudge, 2 Pairs of Christmas Socks, (wore one on Christmas day while we had people over), a really great smelling lotion called Sensual Amber, A laser pointer, 4 pc Glass Photo Coasters, 2 different types of balls for Kitters (she loves balls), a cat tie, a catnip mouse, the catnip bubbles, Kitters cat pad, and the cream of the crop!!!! A Crazy Cat Lady Action Figure!!
My mother in law even got a kick out of the crazy cat lady toy!
Here is the candle pot front and back.
Here is the crazy cat lady- sorry it's blurry!
This is the Ikea candle that smells so great, and it's got a really pretty etched glass
And here is Kitters all properly moved into a box with her new catpad!
She stayed in that most of Christmas Day under the Christmas tree while we had our company over so it was nice she was out there in the living room with us rather than hiding out in the bedroom all day!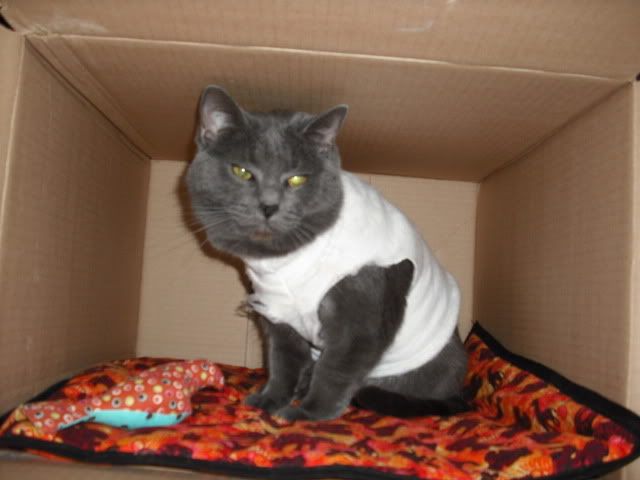 I just wanted to say THANK YOU again and how great everything was!!! I am certain that we both we be on a sugar high from all the goodies you sent for quite a while and Kitters has been on cloud nine with that catpad from the moment we got it out of the package!
Thank you again so much!
You did a great job with us!