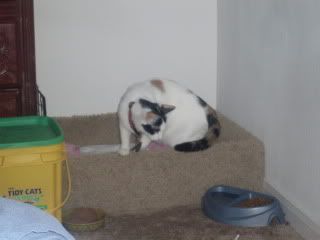 The above picture is what there in.
They climb all over the nest box when we take them out they can get back in and such. But they have no interest to leave on there own. I will walk in the room they will moew for me to come get them. But wont leave on there own. They are four weeks old today.
And had there first real taste of canned food.
I am going to put a litter box out today also. Is it time to remove the box and make a bed on the floor so they can move around.
They walk run and chase everything in site.
I plan on weining them most of the way by 6 weeks just because they get there shots and such then. They will stay with mom tell 10 but she needs to be dried up by the time they go into the shelter for adoption all five are adoptable.
I take mom in next week for her FLV test and if she is negative we are set for shots and such.
so do I take the nest box out now