For some reason I had it in my calendar as Oct 4 - but in looking through her pics, we found out we actually brought her home Sep 27!
She was born with cerebellar hypoplasia, so videos would really capture her much better than pictures. The best way to describe her is that she looks like a drunk with parkinson's disease - especially when she gets excited about something. Her handicap doesn't bother her - though as a baby she couldn't control her muscles well, and we had to pad the entire house in foam.
We tried to contain her in a playpen in our bedroom. That lasted a few hours, until she climbed out of it.
She can't jump - but she can climb.
We had to move her into the separate room (though all the cats - except Spooky, of course - were great with her). But at night we didn't want to worry about her hurting herself, so we had to put her in the room. She always climbed under the cedar chest (despite the many boxes, beds, covered beds, etc). We'd open the door to check on her or in the mornings and say "Where's Ming Loy?" And we'd hear this thump as she got up - she'd wiggle out and come running (well, flopping) to us. When we were confident we had everything "Ming Loy" proofed enough (pillows at the bases of anything she might climb, thick foam rubber at the bottom of the stairs in case she just rolled down them, padding on the edges of all corners of walls and furniture, etc.), we left her "safe room" door open.
She had great fun exploring everything. And we'd call her - Ming Loy! - and she'd ignore us. I looked at Gary and said.... "I wonder....." and he said, try it. "Where's Ming Loy?" And she came running!
For the first couple of weeks (took a while to transition), she thought her name was "Where's Ming Loy?"
HAPPY BELATED GOTCHA DAY MING LOY!
Laurie
(I can't get photobucket to upload, so I have to use pics already on it).
She was so little - but had such a big head!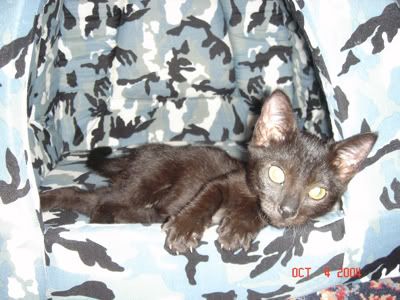 Our little baby spaz: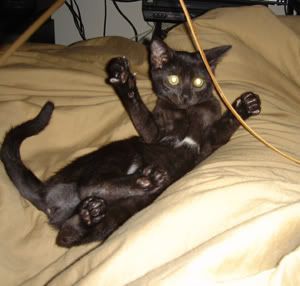 ...but she was just SOOOOOOO cute with her "little bikini" as we call it ("V" of white on her abdomen, and a little strip of white across her chest)!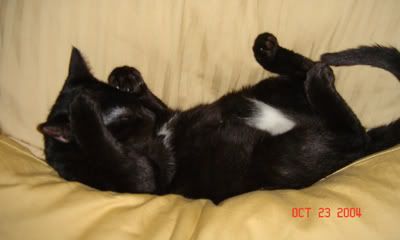 She was always moving!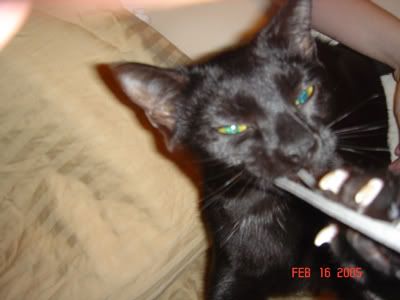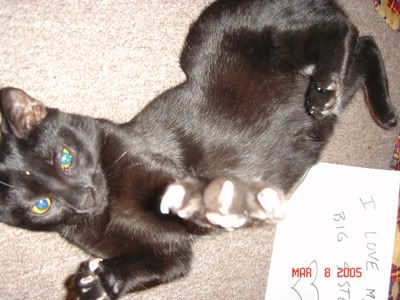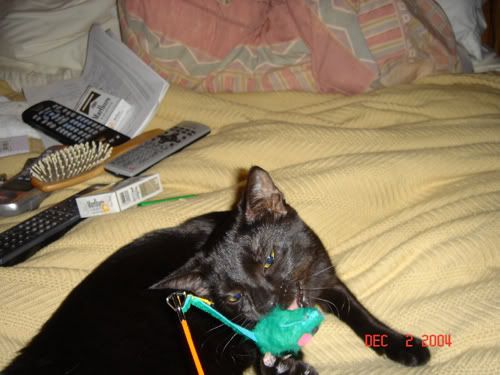 ....which is why we don't understand how she's turned into such a little tubba-wubba