..or trying to, anyway! The world's most stubborn cat hater, also known as Evie... Well, she's begining to loosen up!!
But before we show definitive and shocking proof of the impossible (Evie putting up with another cat in her vicinity), here's some of Cronos settling in!
Harness training! We put him in a harness to take him up to Petco, we need to make sure he can go to adoption fairs.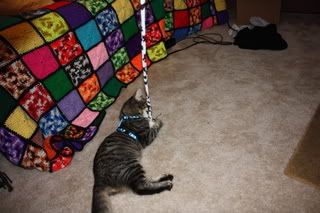 I'm thinking I should change my contest entry to this one! "It's killin' me, mom!!!"
Cronos's favorite spot to lay. Even when daddy runs him over with the chair... But isn't this sweet??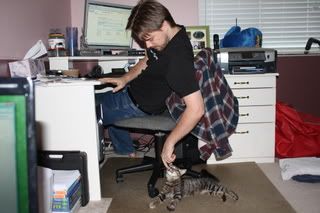 And, introductions! We've been doing this slowly over time, as per the instructions. But it's been a few weeks, so we're letting them socialize a little more.
At first, Cronos pretends to be more interested in the chin cage...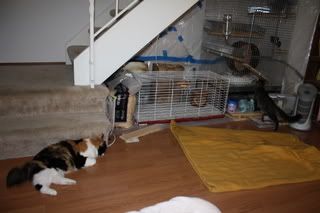 Then they circle dance around each other for a bit, but never get close...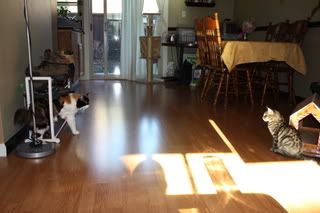 Finally, Evie comes up to check him out!
Anything you can do I can do better!
"Who, us? No, we're not fighting, just sitting here with my reflection..."
Evie says "Yes, I am watching you!!"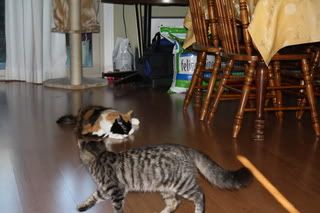 To which Cronos responds "Oh, can I come play, then??"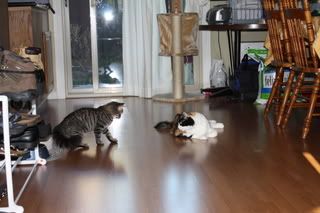 "NO, I don't want to play!"
A bit more circling, and they end up back by the chin cages! Look! Nose to nose!!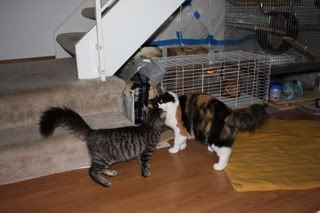 Then Evie begins to remember she's the cat hater...
But see, the ears are up! She's not hurting him, yet...
Aw, look, they're friends and are holding hands!!
Or, maybe not...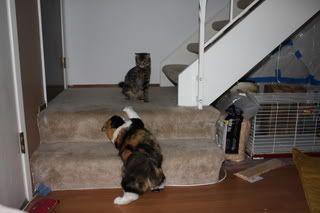 Yup, after that, we separated them again! But we're making progress!!
Best news is, Cronos may have found a furr-ever home! Yay!! So all this socializing may be moot, but I guess it's good for Evie!