Thank you everyone. It is really hard knowing he is gone. I look at his cage and I expect him to be there. I will post a copy of what I posted in another group.
My little Oscar passed last night.
He was nearly 2 years old. He was a fighter. First he scared me with a lump in his neck that ended up being a cyst after he had surgery. He got a 2nd lump and it went away on its own.
Most recently, he started breathing weird and I took him to the vet. She said try meds or put him down. I did the meds. They didn't help so I tried a 2nd vet a half hour away. He was given fluids and a shot. Still no progress so I found an exotics dr and hour and half away. He was there since Tuesday late afternoon.
He was put on oxygen and when I saw him in there, I could tell he was more comfortable. He curled up and slept. He had been just laying out at home because it was harder to breath. They did xrays and blood work and think he had pneumonia. The dr called today around noon saying he
was stable but oxygen dependent and wanted to know if I wanted to put him down. I said one more day and he didn't make it.
Now on top of my $71 and $79 previous bills...I am looking at over $1000. I am crying my eyes out because he was a great rat. I just thought I was share my story and a couple of pictures.
The dr told me he almost called me yesterday to say the new antibiotic he administered had helped Oscar perk up and he was eating. Unfortunately, he didn't make it. They are going to do an autopsy which I agreed to so that I can know what was going on and hopefully help in the future. I will also be getting his ashes back. I think it's only right since I tried so hard.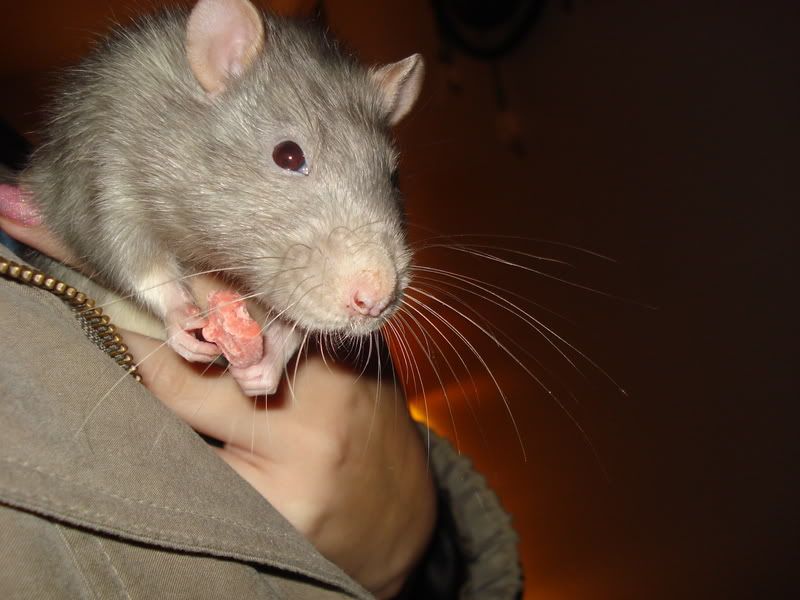 Eating his favorite snack.
Sleeping next to me on the couch.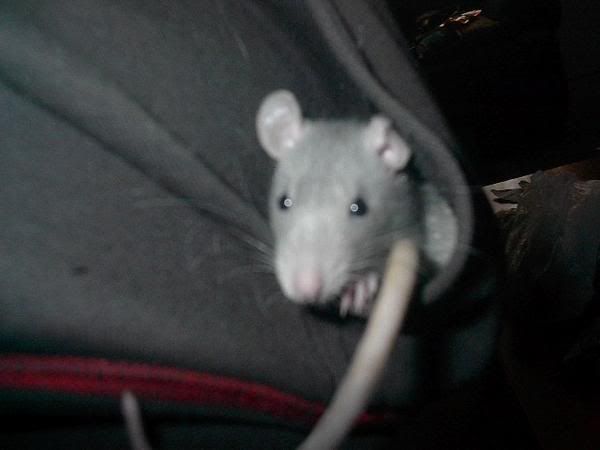 Younger...in my pocket.
After surgery...