Monday Afteernoon I went and had a cast put on for my achilles tendon problems. The Dr says that, in three weeks, he will remove it and see how things are progressing then put another one on for 3-5 more weeks. He didn't have any colors to choose from...just white.
I HAD to decorate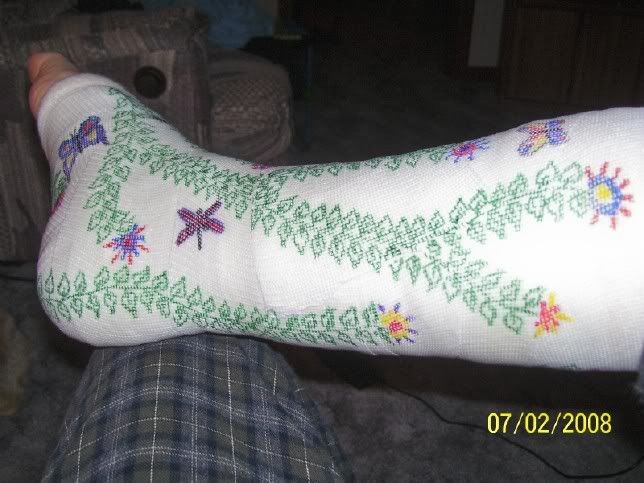 Things have been rather boring around here otherwise. Hubby says that I am not allowed to go upstairs so before the cast was put on, we moved all the sewing stuff down here. I have bruises under my arms from the crutches even though I have good padding on them and don't put them in my armpits. My other leg is sore from hopping around on one foot. I am going to end up with one "bun of steel"
This morning, there was a police car and the coroner's hearse parked on the street when hubby got me up (he insists that I am awake and downstairs before he leaves for work). Evidently the neighbor across the street died. Hubby said that he was the only one not seen walking out of the house this morning. He was rather a portly gent and not much older than about 50. Not sure why he died, but by the gallon bag of meds that the coroner brought out, I would venture that he had health problems. I didn't really know these people, but I am not sure if I should send flowers.
It is hubby's an my 3rd wedding anniversary today. By the time it really hit me Sunday evening that I hadn't got a gift for him yet, it was too late for me to be able to get out of the house and get something. Instead, I waited until he fell asleep on the couch and I got out the credit card and the laptop. The nice people at Made In Oregon had various gift baskets that they sell, I did look at flowers, but they didn't seem like a good gift for a guy. Instead, I settled on a gift basket with two types of Tillamook Cheddar, some smoked sausage, roasted hazelnuts, chocolate covered hazelnuts, smoked pacific salmon, and gourmet mustard. The cost of the basket - $49.99, the cost of shipping perishables from 2500miles away, overnight - $35.00. I wrote him a nice note on the whiteboard and left his gift in the fridge. I think he was happy, but I didn't tell him what it cost
I went to hide the box that the gift box came in. The neighbor's recycle box was good enough (they are the in-laws and they don't mind) and they invited me in for cappucino. Later on, Mom (his mom, that is) brought over a salad for my lunch and I ate it and the salad that Hubby had left me in the fridge. I think his mom likes having somone to mother
His parents are wonderful people and they make excellent neighbors
Lucky for all you, Marcie has just deposited herself into my arms and on my lap, so I can't hardly type anymore. Sorry for the long post