Okay, a bit of background, but I'll try to keep it brief.
Moses is about a year now, I've had him since he was tiny. We actually got him
way
before we should have (he was 6 weeks) but the pet store lied about his age and we didn't know any better.
He's kind of a spunky little guy, and I really believe that he doesn't know he's a cat. He thinks he's a person. He uses the litter box and grooms and all, but he's not the typical cat-personality. We think this is great.
I've been working more, and Moses is such a social guy that I feel bad leaving him alone all day while I work. So, I've been planning to get another kitten in the next 2-3 weeks or so. I'm going to change my work schedule so I'll be home
a lot
for the first little while.
Moses has these little stuffed animal friends that he carries around like his babies and tries to feed. (Cute, but kinda sad).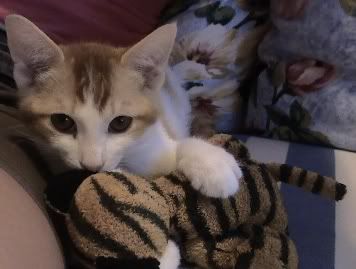 So, I think that he'll be a great "momma cat" to a new kitten. I also think that if we get a young kitten, it will pick up Moses' personality/habits a bit. So, we'll end up with 2 cats like Moses - which is exactly what we want.
Now things get complicated...My parents adore Moses (they live out of town) and want to get a kitten, but really want one with Moses' "i'm just a furry little person, not a cat" personality. So, they've asked me to get another kitten, for them, have it "learn" from Moses for a few months, and then they'll take it home with them in May. So I'll be getting 2 new kittens, but only one to keep.
Am I crazy? My biggest concern is that Moses or the new kittens will have a difficult time being separated in May. I don't want 3 cats permanently, and I also don't want to depress Moses by taking a new friend away. I think that I will likely get 2 new kittens from different litters, and not at the same time, so I was hoping that Moses would become more attached to one than the other, and the one he's not as crazy about can go to my parents.
I think that Moses' orange-ness has something to do with his personality. The vet told us that orange cats are usually spunky and active and friendly. Is this true? What about Calico cats? What about white and grey cats? What about white,grey,and orange cats? (Is this Calico?)
Do you think that a young kitten will develop qualities of a "foster" parent? Am I out of my mind?