Following Gaye's original thread "A Breeding Chronicle" which is a sticky and can be found here:
http://www.thecatsite.com/forums/showthread.php?t=79115
(I honestly don't know if this should be in pregnant cats???)
I thought I'd just post some weight info on new born Abyssinians. Note: this is specific to this litter and no other but some might find the weight info interesting!
On 2 Feb 2007, my female GC Masmera Cahaya Bulan delivered sucessfully 3 kittens, current sexing (I'm known to be wrong!
) 1 male, 2 female.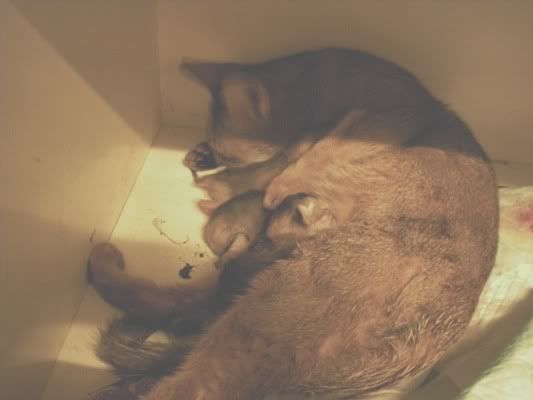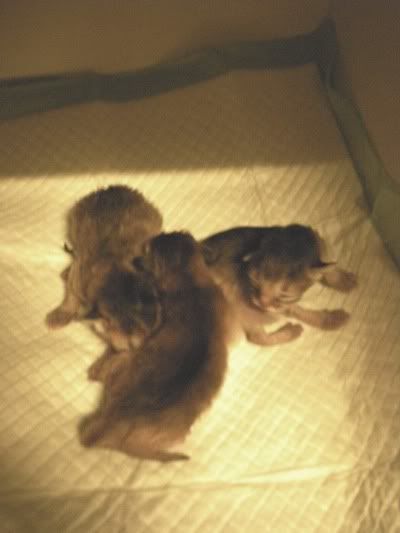 Now known as Dark, Darker and Darkest (the male)!
At birth they were:
Dark: 87 grams, Darker : 87 grams and Darkest: 89 grams (weighed at 2am, 3rd Feb)
Weight at 11am Feb 3:
Dark: 88 grams, Darker : 92 grams and Darkest: 96 grams
Weight at 11pm Feb 3:
Dark: 99 grams, Darker : 100 grams and Darkest: 104 grams
I knew then that they were feeding well and getting the required colostrum. Now I can continue weighing on a daily basis instead of on a twice daily basis (I'm a bit paranoid when it comes to my babies). If the weight gain had been less then 5 grams a day, I usually begin supplementing.
Weight at 9.30pm Feb 4 :
Dark: 111 grams, Darker : 111 grams and Darkest: 114 grams
I have fat cute babies!
I will continue this thread for at least 2 weeks if anyone is interested...And will post another picture on the 9th or 10th of February (1 week old Pics)