It was suggested to me to post some pictures of my cats, so I thought I might introduce myself first.
I'm twenty, living in Sweden, I'm an american born citizen and I go by the name of Wolfie. Don't let the nickname fool you, I've been a long time cat lover.
After much begging and pleading, my mother adopted a kitten from an old school mate of mine when I was eight years old. He was meant as a birthday present to me, but he's now become the family cat. Tiger lives with my mother in the USA, still, along with two of my (I say my, because I'm the one who rescued them, with her permission ofcourse!, and they usually spend their day with me.) cats I unfortunately had to leave behind when I made my big move to Europe. My mom loves those cats, I know they are in good hands.
Tiger is now 12 years old, going on 13 this summer. He's a beautiful tuxedo shorthaired. Amethyst was my first rescue. I'm not quiet sure of her age, I've lost count because her addition to the family didn't revolve around any milestone in my life. I think she may be close to five or six years old. She may just be closer to seven or eight. Her story to me is rather tragic. I came to own this poor little ball of black fluff when she was only a few months old. Running around with a teenage companion of mine, we visited her then boyfriend. This sickly kitten had been roaming around his house for a few days. He'd threatened to feed the poor thing to his dogs and I offered to take her. When I first brought her home, it didn't take much begging to make sure this kitten had a good home and shelter. At first, she didn't seem too sick, looking like most strays did around the neighborhood. Gunky eyes, a little thin. A few days past and we noticed her coughing, off to the vet we went. She had pneumonia and a respiratory infection according to the vet. They offered to euthanize her, they gave her little hope, but I had faith in this small kitten. We were given antibiotics and some other medicine to give her. I spent alot of time with her in our back room, the moment she curled up on my stomach while I was working on homework ensured she had captured my heart. She made a speedy recovery, much to the vet's surprise, and is just as spunky today as she was when I first rescued her. The only way you can tell she was a sickly kitten is when she plays too much, her breathing is sightly faster than our other cats.
Sixpack is the third addition to my mother's and my household. His story isn't much. His mother was a stray in our neighborhood. In the middle of winter she had her kittens. My neighbor and I scooped her up and her four small kittens and gave them shelter, which my mother agreed to, in the back room of my mother's house. This room was a sunroom with two doors leading to the outside. Very bright and very large. The mother was an outdoor cat and actually belonged to someone down the street. When approached about the kittens, they didn't want them. They stayed with us while the mother was returned. (They didn't take care of her, because according to my neighbor at the time, she was picked up by animal control a few weeks later. =/) A visit to my dad's left me in a sour mood, my mother had given three of the four kittens to a friend of hers who needed barncats. She kept the runt. He too still lives with my mother, and we sometimes wonder if he's a few crayons short of a crayon box. He's such a silly cat! Very affectionate too. Tiger's getting up in his years, so he usually spends his days restling around with Amethyst. As far as I can tell, they are all fat, happy cats. Hehe.
Just recently I made my move here to Sweden. I had hoped to bring Amethyst with me, she's the one that has my heart. (I love Tiger and Sixpack, but my bond with Amethyst is so strong.)
I moved with my daughter to live with my fiance and work. He already had a cat, I believe she's almost two years old. Sweetie was bought from a breeder while we were dating, a pedigree Russian Blue. She's a very pretty cat but has such a 'tude! Hehe.
In June, I believe, my boyfriend and I were looking through adds for kittens. At first we had tried a local shelter, we put our names down for a few cats we had high hopes for and gave our information to them for their committee to review and they would contact us in a few days. We had an unexpected change of a phone number, so we repeatedly attempted to contact the woman who took our information by email and phone. Four weeks past and we heard nothing. While we were working, it seems she tried to call. We repeatedly called this number in hopes of getting ahold of this woman, after a week of trying, we gave up hope.
Back to my point, we searched articles on kittens, in hopes of finding a pair of black fur kittens. We wanted kittens, although we did see a few one-two year old cats who looked completely adorable and very adoptable, until we ran across an add for a litter of four, we had hoped for a male, but when we contacted them the male had already been called on. Two females were still available and we very eagerly had them take our names. They were still under the age to be given away, when the time came we swept off to pick up our sisters. The girls are very lively and are now about 10-11 months old. Poe and Raven seem to love their surroundings and are very affectionate. Raven can be quiet but Poe just loves to talk!
Hehe, now the introductions are over, how about some visuals? I apologize now for so many.
Here's my old man, Tiger. He's such a stud.
Amethyst, my beautiful girl. How I miss her!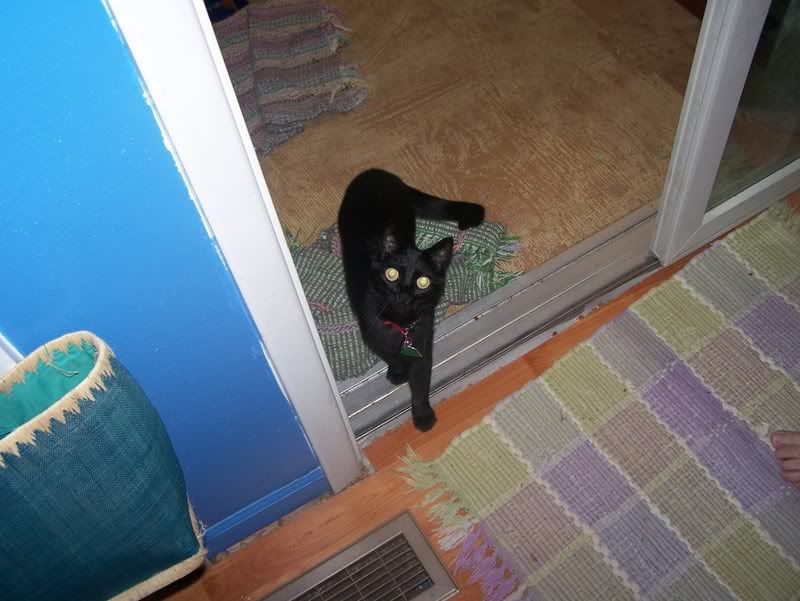 She loved sitting on my computer monitor.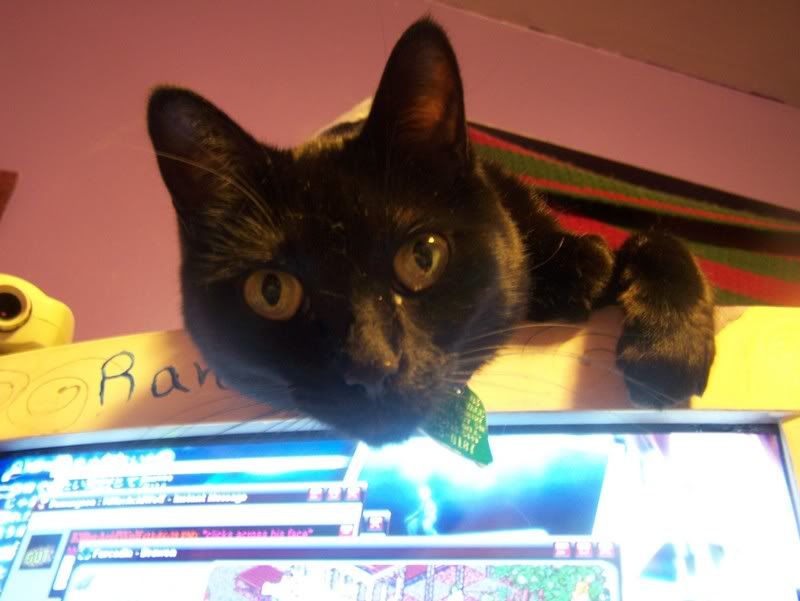 Sixpack, the no legged kitty!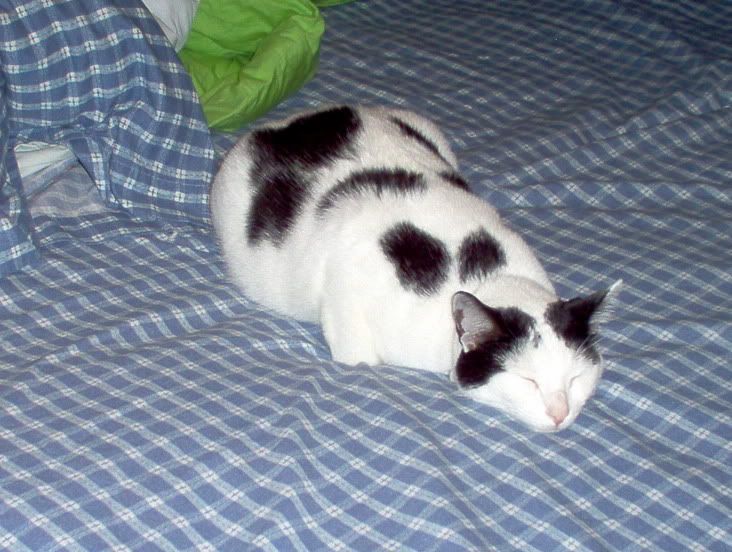 Just kidding! He's such a trouble maker.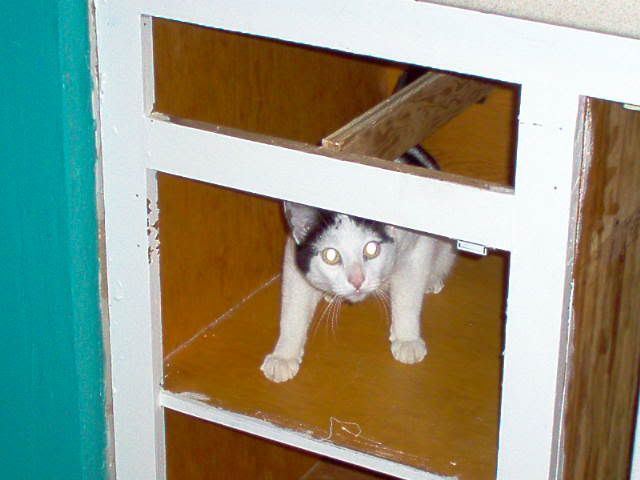 This is a picture of my first visit after my boyfriend received Sweetie.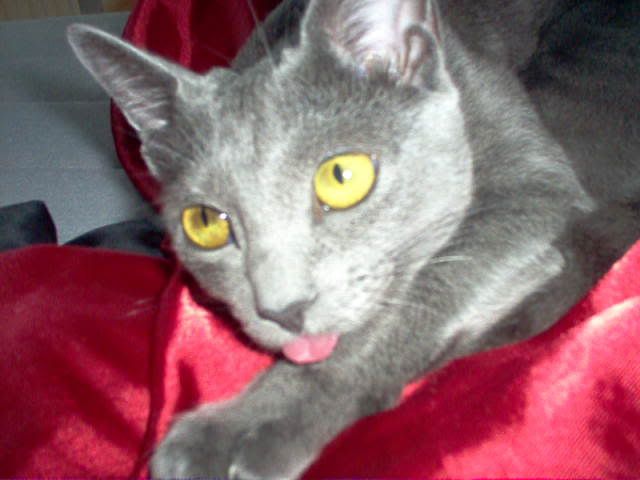 This one was taken a few weeks ago when she occupied my lap. She's such a priss!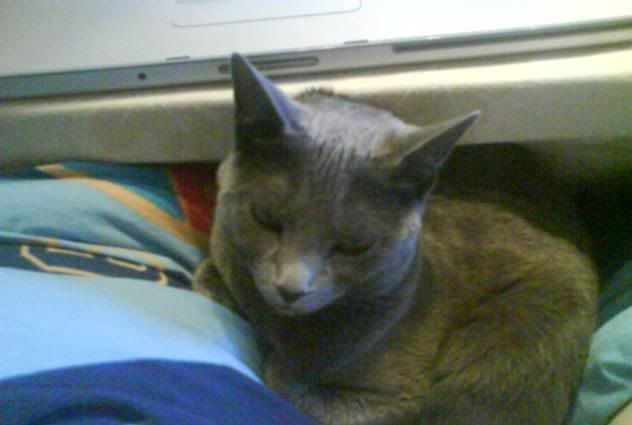 Our girls on their way to their new home! Raven and Poe.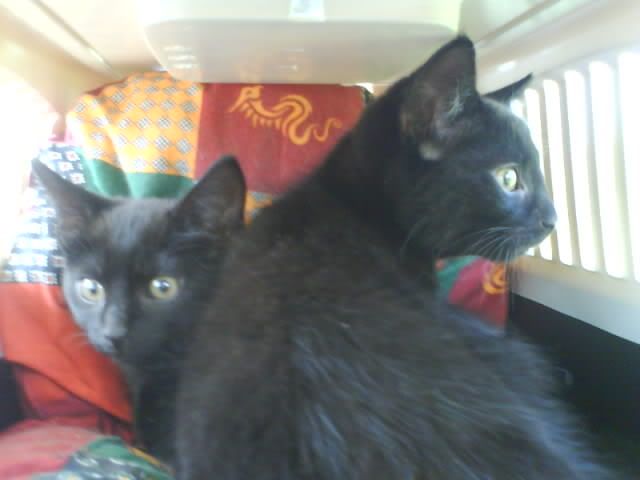 They love curling up in blankets with us.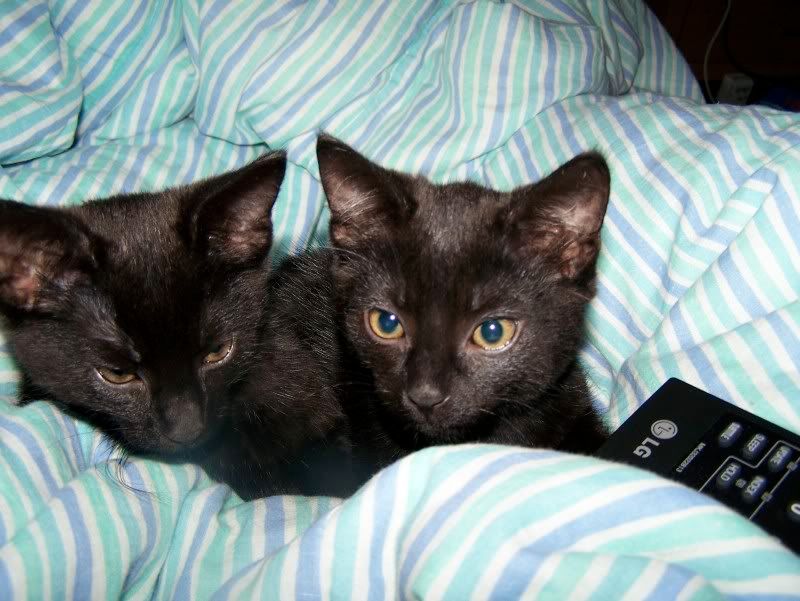 A few weeks ago, Raven.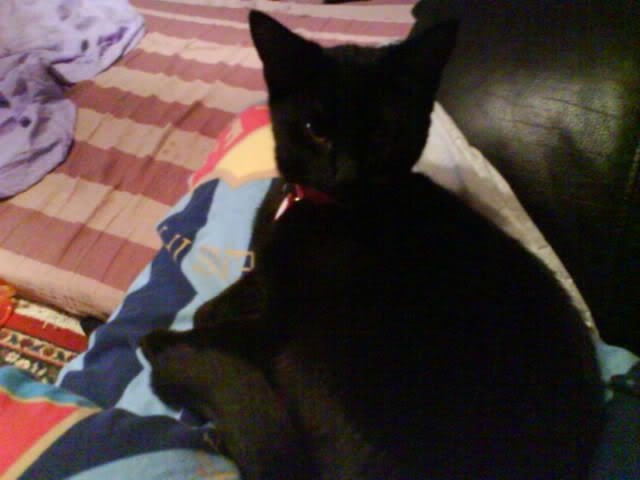 A few weeks ago, Poe.