Kane is one of Skye's kittens. My sister fell in love with his baby pictures that I sent her and she drove all the way done from Shawnee KS to adopt him. So though I dont get to see him in person I get pictures all the time.
Im not sure if anyone remembers Skye's kittens. But they are the ones that first brought me to TCS. I was worried because they were small for their age.
Kane now at 9 months and 12 lbs. Hes twice as big as Skye!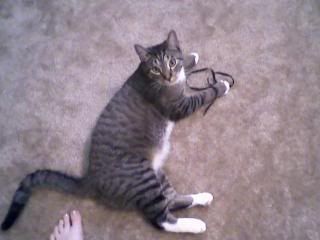 Kane way back when with his brother Jayce
The whole litter