I just wanted to come on the site quickly and say hello. I'm going to be more quiet than usual the next few days/weeks. On the 15th DH and I welcomed our son, Bradley Scott, into the world. He came in weighing at 8 lbs 13.1 oz and 20 inches!
Real quickly, here is a summary of the events.
DH and I went up to my regular OB appointment on the 14th. Around 10 am (on the drive up) I started to feel some contractions. When I was out of the car and walking around I felt a little better and we went shopping until our appointment at one.
We got to the doctors and we discussed me having a non-stress test to check on baby, since I'd been having some blood pressure problems. Well, during the test my water broke and I was admitted to the hospital at 3 pm.
Contractions started not too long after that and I got my epidural. I was able to take small naps during the night. Come the next morning labor hadn't progressed and I was started on pitocin. After being on the pitocin I was fully dialated around noon. We started pushing.... after a couple hours the baby hadn't made progress and he was 'stuck'. I needed a c-section.
But at 4:25 we welcomed our boy. He's 4 days old now and doing pretty well. He and I aren't cut out for breastfeeding so I'm pumping into bottles so he can have the nutritional benefits of it at least.
I'm still pretty sore and worn out. I lost a lot of blood during surgery and was already anemic prior too....
Here is our boy: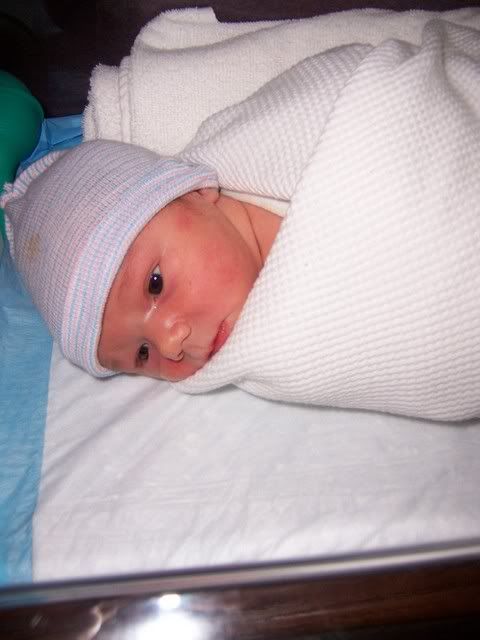 Mommy (a little worse for the wear) and Bradley:
Daddy and his boy:
(sorry about the size... photobucket keeps logging me out when I try to edit.... I'm too tired to deal with it now.)