Hello All!
My name is Adrianna, and I am the proud momma of 2 furkids!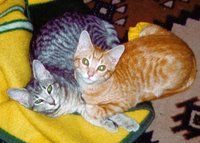 Mister is the ginger boy, and Mooque is the grey girl.
They were hand raised by my family. Their mother dropped Mister and another kitten off on a stoop to get them out of the rain, and a few days later we caught her to have her spayed. When we set her free she returned to her other 2 kittens at the nest, and was shot and killed by a neighbor about an hour later. So we ended up hand rearing 4 babies! They were a maximum of 4 days old (the second batch, the first batch had both their ears and eyes closed still!), but we bottle fed and diapered them, and all 4 pulled through!
I kept the two you see up there, who are inseperable! They have many oriental breed traits, as they are both long and lean with pointier muzzles and can they TALK! They've got a lot to tell me every day!
I also have a third cat, but she and my grey do not get a long and she now lives as an only cat (the way she likes it) with my mother! She does think she is a dog though, so it's good that she has her 2 dog buddies! She recently lost her 2 other dog buddies to old age, and Schmutz (the cat) was pretty upset about it.
I've had cats all my life, and at one point we had 7! Over the years we have dwindled down. Growing up, my house was the lost but now found for cats, as we have never purchased a cat, they've all be found on the streets or in danger. We even inherited 2 cats at one point!
Other than my kitties I also have a horse, an American Saddlebred show horse whose name is City Heiress, but I call her Syd.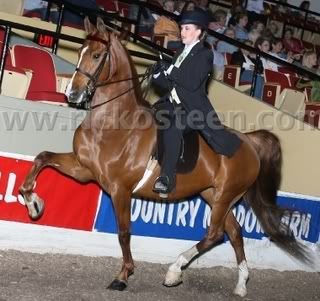 I also like to knit and sew, read, watch tv, watch movies, talk and laugh! I am a single 28 year old, so everyone makes jokes that I'm going to be a crazy cat lady, which to me wouldn't be the worst thing!
I hope to bring my many many years of cat experience to this forum to help others with their furkids!