Firstly, I do not agree with wild animals being made into pets. Wild animals belong just there, in the wild. This girl will be raised by me and attempted to be released by September. If not then we will have to make something for her and she will be released in the spring.

I DO

NOT

PLAN ON KEEPING HER!

A week ago the rescue I volunteer for got quite an unusual call. Someone had arrived home only to find a box with a baby raccoon in it, on her doorstep. The poor thing was screaming bloody murder.

She called the rescue.. and the rescue called me. I went and picked her up late that night and brought her home. Where I immediately looked up the number for the nearest wildlife rehabilitator.

The lady that I called basically called me stupid for taking her in, and that I should put her back where I found her. (even though I had already explained to her that I don't know exactly where it came from)

I begged and pleaded with her to take it.. because it was screaming and clearly VERY hungry. She told me she was full at the moment. I told her that I understood that and that we had 250 cats and kittens at the rescue, but that didn't mean that we wouldn't take one in if it were an emergency. I think that made her mad and she told me that the ministry wouldn't allow her to take it anyway because I don't know the exact location that it was before it ended up on the ladies doorstep.

So I went and got a emergency can of KMR that we had at the rescue incase we got little kittens i n. Also grabbed a 12 cc syringe and fed her. She was instantly quiet. Once her belly was full she went to sleep.

In the morning we called several more wildlife rescues.. all which turned us down. Sooo, we went and got several more cases of KMR and I will be handraising this girl until she's ready to be released. Which the one rehabilitator told me late august/early september.

I already have a lady out in the middle of nowhere that is willing to take her on her property.. she has a shed where she can sleep and she already feed the raccoons there so she would always have food, even during the winter.

So anyway. Here are some pictures of the squirt.


Day after we got her into our care.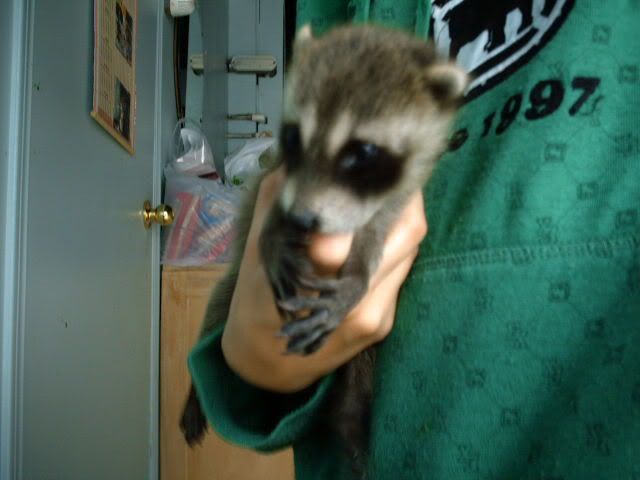 Friday 20th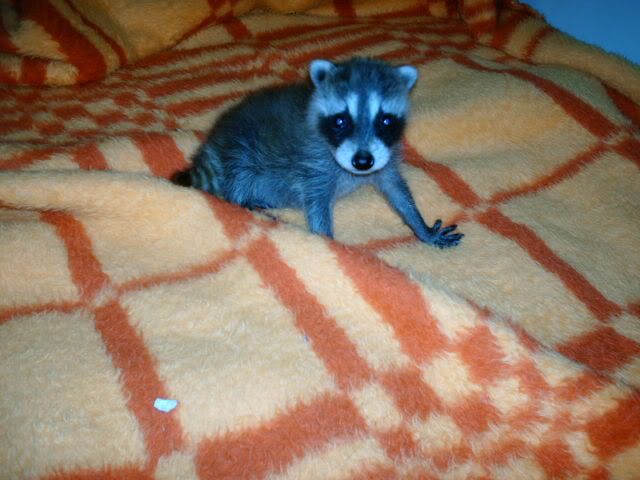 Today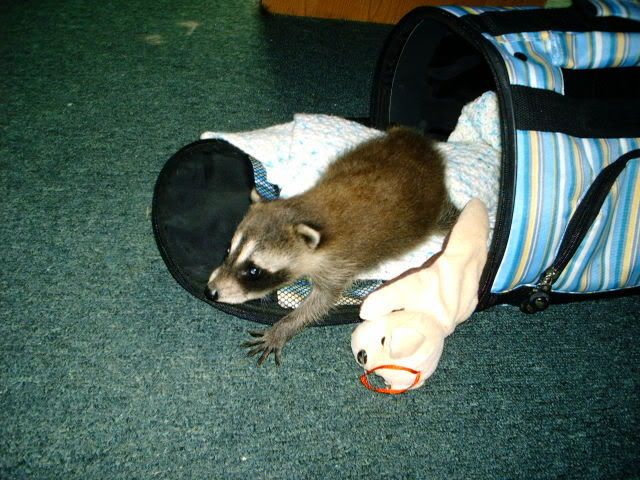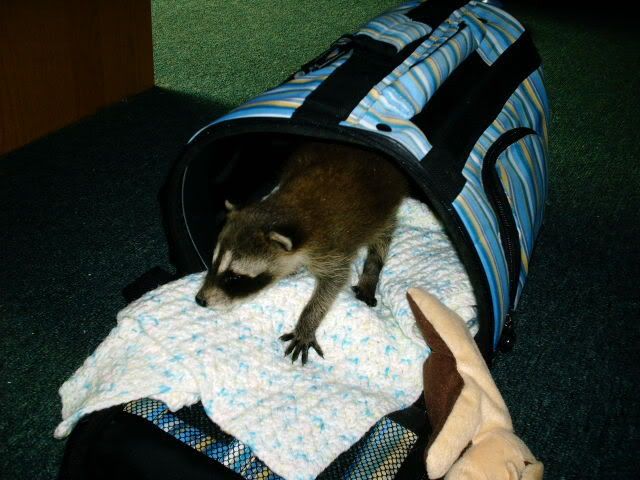 She drinks from a baby bottle. And she should be starting on solids this week or early next week.
Here's a video of her with her bottle. It looks like I jerk her head but I'm not anymore rough with her than her mother would normally be. I do slap her back to burp her as well as roll her around and whatnot so she can gain more balance and strength in her legs.
http://www.youtube.com/watch?v=m2RVhjlK6rc