I've been around a little while, mostly just reading posts, but never really introduced myself. So, I thought I ought to do so.
I am Wendy, and this is my lovely boy Chase. He is 13 years old, and just such a sweet boy. He loves to cuddle and be brushed, and is known to sometimes steal my pillow at night. He is very talkative if he wants something (esp. food!), but otherwise he's laid back and quiet. He loves to play with the family's youngest dog, when the silly thing isn't being too rough, and he grooms any dog that will let him get away with it (and sometimes the humans, too!). He had to have all of his teeth removed last year, since the family didn't keep up with his dentals, but it's not changed things for him too much.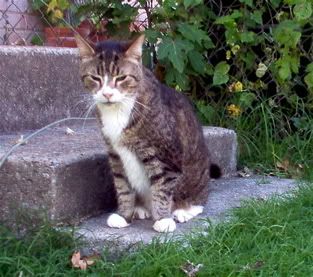 We also have 4 dogs, another cat, a guinea pig, 3 rats, a mouse, a betta fish, a chinchilla, a hamster, 6 lovebirds, and a sun conure! This includes family pets. I'd go nuts if I had to take care of all of those!