Quote:
Originally Posted by
saynamore
Hi SF, nice to bump into you. I'm Chrissy and I have been breeding Persians in Lancsashire, UK, for 6 years now. I have recently moved into breeding vans. Started out with colourpoints (Himalayan) then went on to traditional bi-cols and now its vans for me. I love your Caesar, he is a gorgeous boy. I am attaching a piccie of my blue and white van boy, Splodge, he is not unlike Caesar except for blue instead of black, lol.
Hope to chat more soon,
Chrissy.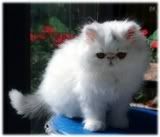 Welcome to to TCS Chrissy. What a pretty pretty boy
gotta love those Van's I know i am a sucker for them now. Caesar has won my heart over for sure.