OK guys....I'm long winded in person and I type that way too.........
Here's a little background.....there is a cat that started hanging around my house over 3 years ago. I've named him Foster. He can never be an indoor cat for me for 2 reasons....he sprays (and they usually don't lose that habit) and my male cat (who has behavioral problems...spraying) would never tolerate another male in the house. Also, I still don't live in my house....I live in a nearby city. Just last year, I brought him in and had him neutered. Late last year, a young couple bought the house 2 over from mine. The house between us is for sale, so it's vacant at the moment. He and another man were walking down that driveway one day and I went and talked to them at my fence. The couple was interested in buying the house. Foster came up while we were talking and he commented on the fact that Foster hangs out at his house. They have a spayed female who is an indoor/outdoor cat he said. I have NEVER seen their cat outside...only in the windows of the house. Anyway, so they know he's my cat. The past few days (3 I think), I had not seen him. Everyday when I go to my house after work to work on it, I would have to go out back and call for Foster. He ALWAYS comes running nad meowing to me from these people's back yard...jumping over 2 fences to come home and eat. Anyway, last night, I went outside and called for him. I thought I heard him meow, but it was very faint. So I walked over to the house next door, the vacant one. I went up to the fence of this couple's back yard and called. I kept hearing him, but couldn't see him anywhere. I went to the front and knocked on their door...no car, no lights on inside....no one is home. So I eventually left and went back home (where I actually live). Today, after work (I get off at 11:00), I stopped by my house on my way to Lowe's to use the restroom. I went out and called for him again from my back yard.....heard him faintly meowing back. So I walked next door again and called...heard him louder. There is a small metal shed in their back yard that is about 2 feet away from the fence. It sounded like he was on the other side of it...where I couldn't see. So I got directly behind the shed and called his name.....he meowed back right away and I could tell he was inside it...it just had that "tinny" sound. So I went and knocked on their door...still no car...shades drawn...no one home. I went and ran my errands and came back about 2 hours later. He was still in the shed and still no one was home.....then it dawned on me that I hadn't seen any sign of anyone being home the past few days. Normally I see their lights on at night. The guy had given me his phone numbers that one time I met him because he was interested in buying the house between us and I knew the owner. So I called their house phone first, no answer. Then I called his cell and identified myself. I asked him if they were away...he said yes. I told him I thought my cat was in his shed and he said he didn't think so. I told him how when I stood by it and called him, it sounded like he was inside. He said no, the shed had not been opened. He said he was probably under the house...there was this space they go into under there and that's probably where he was. He said when they came back, he would look, but that there was no way he was in his shed. I asked when they would be back and he said tomorrow (Saturday). I got the impression from his tone of voice that he was a bit put off that I was calling him about that. Anyway, I called my mom and talked to her about it and told her I wanted to jump the fence and check it out. I said, "they're out of town, it's not like they can catch me in the act." She said if that's what you want to do, then do it. So I did....and GUESS WHAT? Foster is in their padlocked shed. Now how in the hell did that happen?!!!!! I saw no way for him to get in. I could only slide the doors open about 2 inches at the most. I cut the bottom of a small gatorade bottle, put some water in a small ziploc bag, and put some in a small ziploc bag. I turned the little container sideways and set it down on the floor inside with him.....he was meowing and grabbing at my hands...poor baby....I opened the side of the ziploc with water and I squirted the water through the opening and into the little cup. I sort of did the same with the food. I opened one side of the zipper and put the bag through and shook it until some food fell out for him. He started eating, so I went back and cut my grass. After I was done, I went back to check on him. He meowed more and I noticed all the food was gone. So I gave him some more. Then I went talk to my neighbors across the street about it. They think, like me, that this guy, for WHATEVER reason, locked the cat up on purpose. Before I went home, I went and checked on him again. All the food was gone, so I dumped the rest of what I had in the bag and then I took the water container out. I did NOT want to leave evidence that I had been in their yard....he might have me arrested for trespassing. So, I'm not sure what to do. My neighbors said I should call animal control first thing in the morning. Unfortunately, I have an eye doctor appt. tomorrow morning at 9:15....so it will probably be between 10 & 11 before I get to the city where my house is. If I find my cat has been let out, and I call him about it and say, "I see my cat is back, so he was in your shed?" and he says, no, then I will know that he is lying. What should I do?! Should I call animal control, or should I wait till they get back and see what happens?
Here are a few pics of Foster and following those are some pics I took tonight of the shed and him in it. I took pics of the 2 sides and you can see there are no holes for him to get in.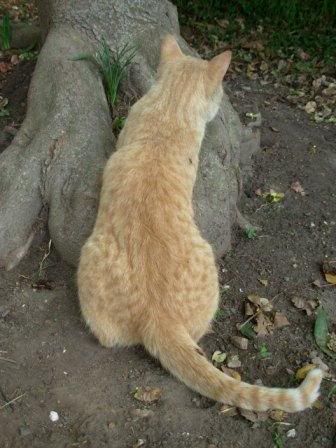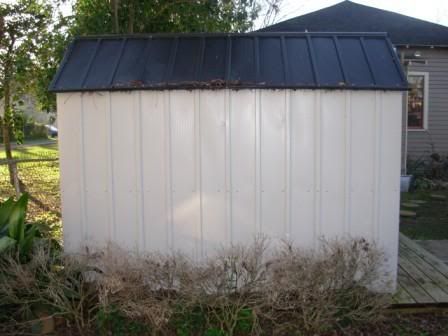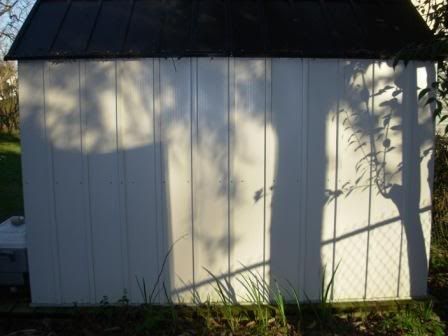 If you look at the crack in the doors, you can see him in there.