Anne is making a detailed help thread, but in the mean time, I thought a few screenshots would help people understand a little more
This is the main vBPlaza menu found at the top of the page (where your PMs and User CP is)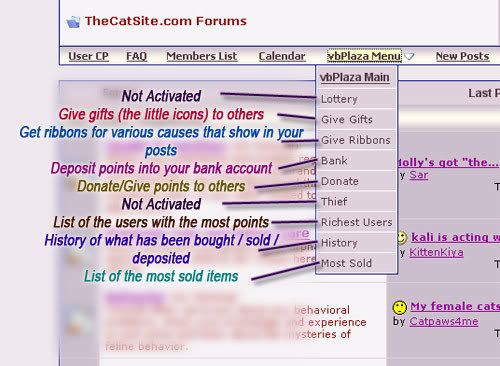 You can click on the links to use the different features of the vBPlaza
First, you can put money in the bank where it will earn interest and make you more money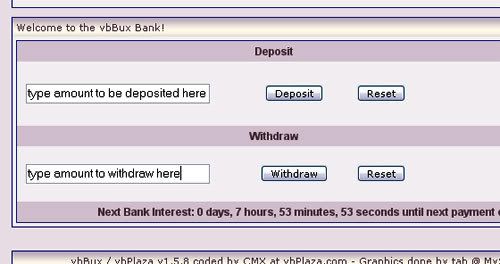 You need to deposit and withdraw separately. Once you type an amount in the deposit box, click deposit. likewise with the withdrawals and the withdraw button.
To give a gift to someone, there are a few options.
First you choose if you would like to remain anonymous or have the person know its from you.
Then you choose the gift you want to buy by clicking through the gift menu
Then type in the recipient's exact username
and type a message to go on the 'gift tag'
Click purchase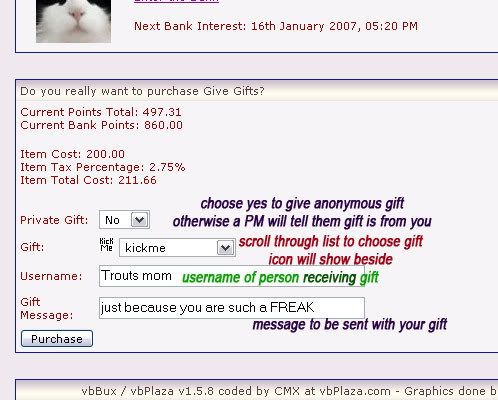 Buying ribbons is very similar only there is no drop down menu showing the gifts, they appear above and you just choose the colour (cause) you want from the drop down menu
You can also donate to people using the donate button in their profiles or using the donate button on the vBPlaza menu
type the required info and click purchase
Hope that helps