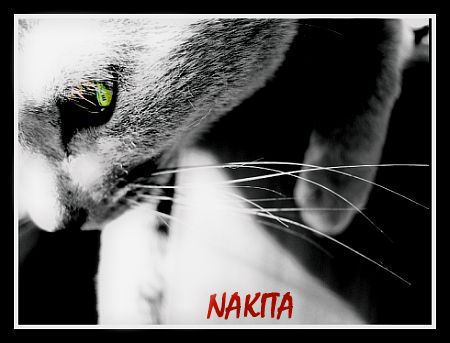 June 9, 2002 – January 6, 2007

When we purchased our house in 2002, I knew I needed a feline companion. On that first day when we brought you home, we opened up your carrier and you immediately ran up Rob's leg. Unfortunately, you fell straight back to the floor with a *thud*. You were the first feline I had ever met that would retract your claws when they made contact with skin. Not once did we ever receive a scratch. I'm sure your gentle soul could never cause harm to anything. That was the first thing I noticed that was different about you, and the following years would show me so many more.

You made our house a home. You were the first thing I checked on in the morning and the last thing I checked on at night. Whenever I felt misgivings from the outside world, you silenced them and made sure I would focus on what really was important in life. You protected me from the disappointments in the outside world.

Without you, this house is now just a shell. Even the future house renovations seem mute, since we were renovating with your interests in mind. We were going to build special hidden alcoves in the bookcases and other feline only features. And now that I have come back home from laying you to rest, it is so deathly quiet. It really is surreal. The silence is so hard to take and the house seems so foreign to me that I no longer consider this my home.

You had such an impact on everyone who knew you. Everyone always remarked on your brilliant emerald eyes but this made me a little sad. You were so much more than an emerald beauty, you were so much more than a pretty face. You were gentle, graceful, wise, captivating, precious, loving, soulful…..you were so unique…..you were one of a kind.

Many people knew you for your eyes, but I knew you for your heart, compassion and soul. Your eyes held the mysteries of life and every time you looked at me I was instantly drawn into your world. You seemed wise beyond your years, even a secret keeper of the ages. You were very special but I did always feel that your time would not be long on this earth. I never saw you growing old with me, there was always a sense that your time on earth was limited. I think that's why I took so many pictures - trying to hold on to every moment…… to remember you forever.

When we laid you to rest at the cottage, it was the hardest thing I ever had to do. The earth was so cold and unforgiving. It seemed like the last place I should place such a warm spirit that I dearly loved. But now you have a beautiful view facing east, the morning sun will warm you, the quiet shores will calm you and the cedar trees will offer protection. When we woke up the next morning, a layer of white snow covered the landscape and your grave. It almost seemed to be a blanket to protect you from the harshness of the world above.

They say angels tread among us, and if that's true, you were certainly one of them. Your physical stature was so small yet you held the world at attention through your beauty, grace and spirit. It is so hard to meet each new day without you. I'll admit, I feel like I am breaking down. I know nothing lasts forever, but 4 years was way too short and it now feels like it was over in the blink of an eye. My heart is crushed and even though it may sound like a cliché - I just want to hold you one last time.

My Emerald Girl, please forgive me. I tried so hard to protect you from any pain or sadness in this life. But these last few weeks sent us all scrambling and I didn't know what to do. You were so frail and it hurt me so deeply when I saw fear/stress in your eyes every time I needed to medicate or feed you. It wasn't by choice, but out of necessity. I thought I was doing what was right but now I'm wondering if I knew anything at all. On our last morning together, your eyes were so forgiving but so empty. I knew it was time but I still didn't want to believe it was your time to go. I so wish our last weeks were not so confusing and emotional. You deserved so much more and I am so very angry and hurt that fate dealt you that last hand.

My Emerald Girl, my constant companion, my secret keeper - may love, peace and tranquility follow you – always.




continued.....