I'm sorry, but enough is enough. My babies have not been nice to me this past week and I am hoping for at least one good nights sleep
. It's not their fault at all and they've done nothing wrong, but I think because it's getting colder, especially at night, I've become their heating blanket. I have been up in the middle of the night for hours the past 4 nights because of them. Here's a few pics I took at various times in the middle of the night
This one was taken at 3:19 am (yes I know it was 3:19 because I was not happy to be up). Please take note that there is no room for me yet this is MY BED!!! I keep trying to tell them this, but they just don't seem to get it.
This one is of me actually in the bed. I woke up and felt like I was in a cocoon. I couldn't even roll over. It's hard to see, but there are 4 cats in this pic all strategically placed - 2 on either side of me in an exact square. (By the way - it was about 4am in this one)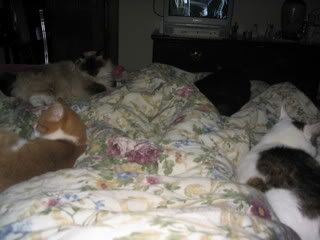 This is what I found after I got up to go to the bathroom one night after being woken up. I think it was a conspiracy. (this one - about 1:30 am)
And last, but certainly not least. I have discovered that my little foster man Chance is a "burrower". I'm sure some of you guys have burrowers as well, but that lump you see below is a cat. He does this in the middle of the night and will crawl right up next to me and curl up. This would be fine if a) I didn't freak out about squishing him b) I didn't worry about him suffocating, c) he didn't attack me every time I rolled over and d) the other cats didn't hiss at him every time he moves because they don't know what the heck is under that lump.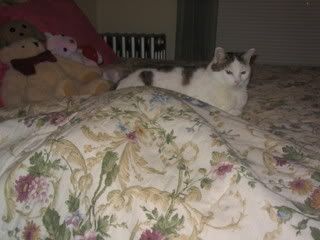 I love them all to death and I know they run the house (I've come to grips with that), but mom needs a nights sleep and I am very close to shutting them out of the room.
Keep your fingers crossed for one good nights sleep....please babies....let me sleep.