Hi there!
We got a Siamese kitten a couple of months ago, I hadn't done any research about the breed, we bought her on an impulse. We'd been wanting a second cat for a while though, we'd adopted a stray tabby cat two years prior and it had/has been a wonderful experience, apart from some health issues he's had he hasn't given us any trouble.
So we brought home this kitten and all the differences with Taby were obvious from day one! She was more cuddly and less skittish than Taby was, but probably because he hadn't had much contact with people early on either. I've found out a lot of things she does are typical of her breed.
She cries ALL the time
. Sometimes it's hard to tell what she wants. I keep her in a room during the day and leave her out to roam the house at night. She just walks around crying and it's gotten SO loud lately! You'd think she was being hurt or something. Does this get better with time? I think maybe she wants to go outside. Taby is indoor/outdoor but we keep him in when we go to sleep. Taby hardly ever meows, only when he really wants to get your attention or wants food.
She's so wild!
I don't think Taby was like this as a kitten, but I think we've given her more freedom too. She walks in the kitchen (which we've taught her not to do, and she won't when we're there) and eats the bread, opens the plastic around stuff and eats what's inside. She's broken about 5 glass objects in the last 3 days! I swear she must do it on purpose, lol 'cause some of the stuff isn't light and things aren't exactly near the edge of the tables.
She must get bored during the day, but it's good that she has Taby and plays with him quite a bit. He's very patient. He'll be eating and she'll come in and push him aside (she's always hungry) and he'll just sit there and watch.
She's a kitten - please do tell me she'll calm down with age. She's 5 months old, so at 6 or 7 she'll get spayed. Is it an easy procedure to recover from? I'm worried about that. She's quite small too I think, compared to Taby at that age.
Here are some random pics. In most I don't think you can really see just how small she was/is!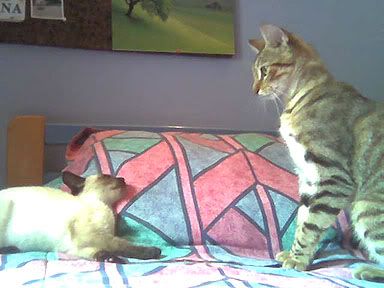 She'll start to annoy him, then he'll suddenly play too rough and she will run and hide!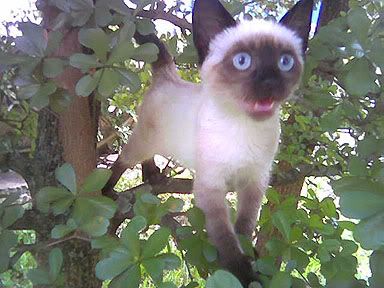 Crying, as usual.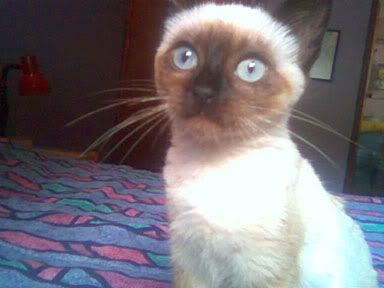 Chocolate or seal point? I was told choc, but I reckon she's a seal point.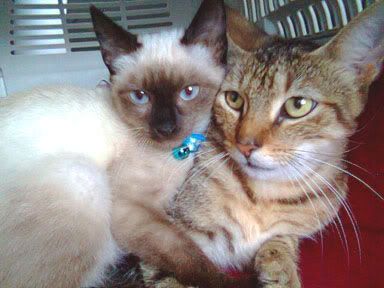 Taby usually won't allow this, they were terrified at the vet's