Hello Everyone!
Just wanted to post a few pics of the new Mr. and Mrs. Susan and Dennis Winnington! Our wedding was on August 19, 2006. It was absolutely beautiful, everything I always wished for!! Wasn't overly thrilled with my hair and makeup but that's ok. The weather was in the 80's, a little humid but no rain thank goodness. The Church service was short and sweet and it was the very first time I have ever seen Dennis cry. So yes, I cried walking up...especially when I saw my brother and Dad shedding some tears.
The reception was awesome!!! My dress started coming apart where the ribbon was right before we were about to walk in but my sister-in-law quickly sewed me back together...that was about the only thing that went wrong. And of course we walked in to Bon Jovi and then our first song was "Thank You for Loving Me" by you guessed it, BON JOVI!
It was absolutely beautiful, so much fun but it went by so darn fast!!! I've been so sad that it's all done and over!!
We went to Sandals Whitehouse in Jamaica for a week for our honeymoon and that place is fabulous, what a treat! Definitely reccommend it. We're still waiting on the professional pics to come in so I'll post the cake, flowers and reception pics soon.
PS - We tried to get pics of me with Cody and Lil Boo but they split as soon as the photography walked in the door! Too much excitement for them!
Susan
Me and my Matron and Maid of Honor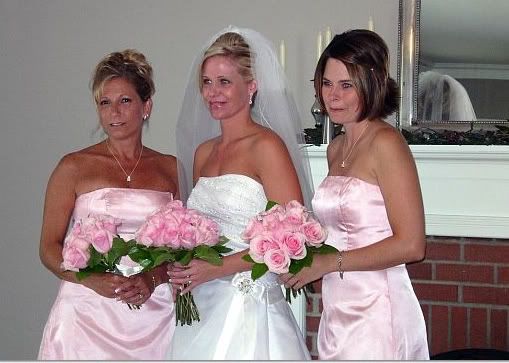 Me and Dad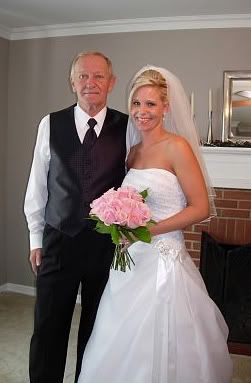 Me and Dennis' Neice Layna - isn't she precious?
Me and My New Husband Dennis