Okay probably you guys know me. Ever since I had to give up back Hades my cat to her former owner, I started to feel I have this special appreciation for cats. But Hades wasn't our only cat, we feed 2 feral guys in the backyard. I think there's already three of them who eat there but I've only taken pics of two: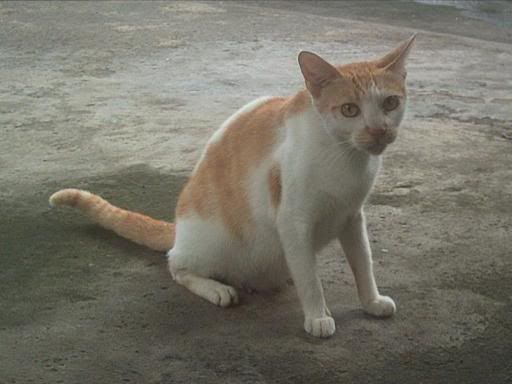 This one here's a pregnant girl, she gave birth several months ago and now she's pregnant again, dunno where her kittens went though. She's the first cat that started being a regular customer in our backyard. She's quite comfortable in the backyard though I can't touch her, last time I tried to reach out my hand when she was asking for food, she tried to slap my finger with her claw *eep*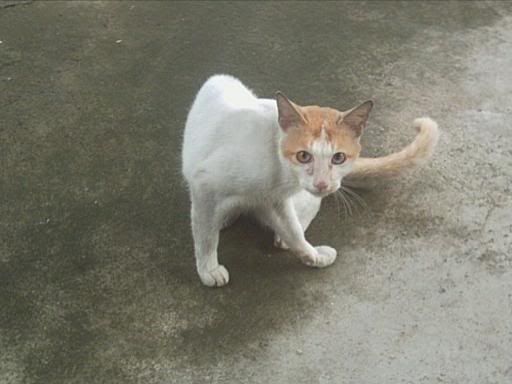 This guy is the more greedy one, he always steals the food of the pregnant girl. Though I dunno what's with his voice, it's like he just opens his mouth. But I've heard him fighting with another cat before. He's already started to get comfy, though you still can't touch him.
I also have a new customer who's an orange cat with a huge black spot on his back, but haven't gotten a pic yet since he's the one most afraid of us.
And the latest addition is this poor kitten: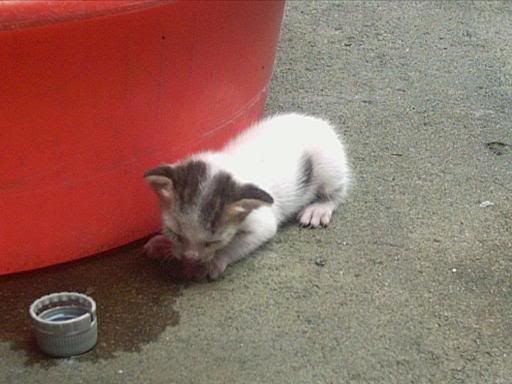 I found him meowing outside and played around by these 2 stupid kids lifting him by the tail like he's a rat. I decided to take her, good thing those two kids didn't made any complains about me taking the cat, coz it'll just die if they handle him any longer. Though those 2 kids enter our yard since our relative's house is sometimes open, and they can go through there. Stupid kids.
But for the kitten, she likes evaporated milk and she can drink now via a small saucer, so the next step would be soft food, good thing he survived without a mom.
So there, I like ferals coz they are more independent though you can't really cuddle them like you could with house cats.