So, one night I grabbed a few oreos and put them on the table next to the chair. I left to get something, and what do I come in to see? (She was totally oblivious to me taking the pictures...
that
determined!)
I go to get her a snack since she is obvously suffering from a bad case of the munchies, and she had already hid two cookies, and was working on getting the third!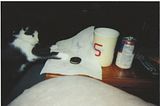 So, I find them in the closet right by the door. I laugh, and remember to keep an eye on her. A few days later, I grabbed something for breakfast and put it on the table. I got dressed, came back, sat down, and by chance looked over...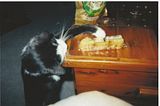 (you can still see the bag of treats I had brought in from the previous occurance)
That's my little clepto