I always post about my kitties and never mention by precious dog. His name is Snowball, but we call him Snowbutt ..... He lived with a lady who had a Great Dane. Snowball lived outside with the Great Dane for 5 years. The Great Dane passed away and Snowbutt became extremely depressed. His owner didnt know what to do. She decided he would be happier running free through the neighborhood. I was driving by one day and he was sitting in the middle of the road. I stopped and opened my door and he came running to the door. I put him in the car, driving around looking for his owner. He was giving me cuddles the whole time !!! When I finally found her. She simply said, "You can have him if you want him", so I said, "I'll take him !!!" ..... and thats how he came to be my precious Snowbutt. I found out about his story later.
He went from an outside dog to an inside dog with a king size bed and big screen tv and he LOVES it !!!! HERES SNOWBUTT !!!!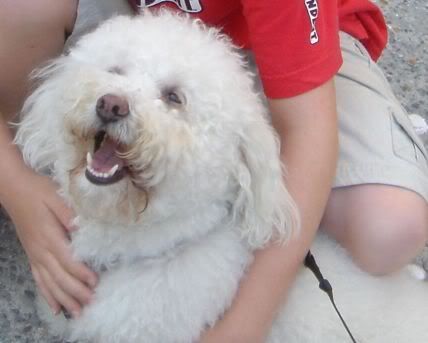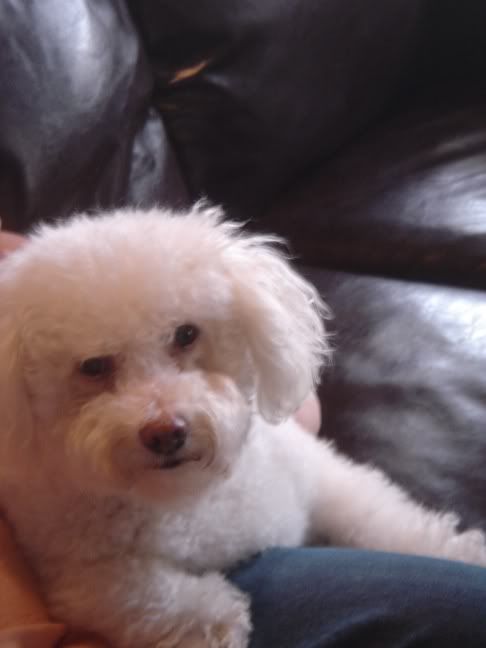 He was sad when he came here. We took him to Petsmart to let him pick out some toys. He didnt like any of them. Finally he walked up to this stuffed white curly haired dog , grabbed him and took off running. So we call it his little brother. We say "wheres your brother?" He takes off running to find him and brings him to bed to sleep with him. Snowbutt and brother ..........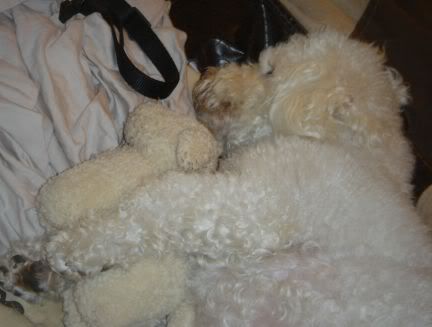 Snowbutt picking up a girl at the park ......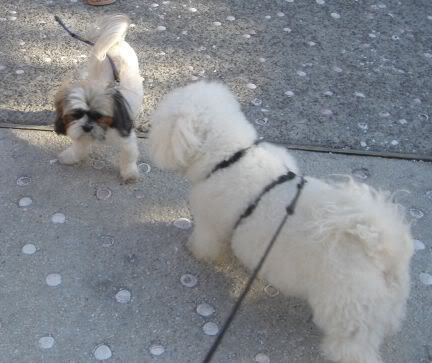 We love him so much. He has the most delightful personality. He never meets a stranger. Anyone outside he runs to and rolls over for a belly rub. Anyone inside he runs over and lays his head on their shoulder. Hes EXTREMELY afraid of lightening and thunder and HAS to cuddle when its near. He was taught by his previous owner to never lick anyone ...... so Im trying to teach him to give me "sugar" and after a year he recently gave me a teeny tiny kiss.
He was taught not to jump on anyone, too ... thats why he runs up to you, and lays his head on your shoulder .....the precious fluff butt .... thats Snowbutt !!!