A friend of mine, E, flew down from Edmonton, Canada, to spend 10 days with me and go see the band Dirty Pretty Things with me. The lead singer for DPT is Carl Barat, and the drummer is Gary Powell - both of whom used to be in the Libertines. The Libertines are the band that i discovered last summer when i was in an extremely low place, and they helped me more than i can say. They sing about keeping going even when everything seems like crap, and about how you can always find the good in life...and they sing about a lot of other stuff too, but their music was so good and their lyrics so inspiring that it really changed my life, for the better. Shortly after i discovered them, i discovered that they'd broken up, and i was bummed about it..but happy to discover that Carl and Gary had formed a new band, Dirty Pretty Things. i really wanted to go see them, cos i love their new music, it's great - and because they throw a few Libs songs into their set as well.
so E and i went to see DPT last wednesday night at Slims here in San Francisco. The show was amazing, so much energy and life, and hearing 3 Libs songs live meant so much to me. Carl had broken his collarbone a week or two earlier and so had his arm in a sling (made of a British flag ), but he braved the pain and played guitar on the song France cos he knew ppl wanted to hear him play.
After the show ended, my friend E and i went outside. i had a bad tummy from having two drinks and then bouncing around like a maniac during the show (not a good combination), so we went across the street to a cafe. i sat and sipped a gingerale, and me and E talked for about 20 mins. i felt a bit better, so we walked back across the street. by this time most of the crowd had gone home, there were only three other girls there, out front. E and i decided to walk to the back to see if we could catch the band. we walked back and saw nothing back there at first, so we stood talking for a minute - then i saw a figure walking towards us. He got closer, and i realized it was Carl
i said "hi Carl", and he veered over to us and started talking to us. i was nervous at first, but he was so down to earth and relaxed. He asked what we thought of the show and we said it was amazing, and i told him it was good to see him playing guitar, tho i didn't want him to hurt himself. then i took a sort of mental deep breath, and took the plunge:
me: "I just wanted to tell you... last year, i was in a really bad place, and i didn't see a point to anything at all, and then i discovered the Libertines, and it really changed things for me, your music helped me so much..."
at which point he said "awww" and hugged me..a REAL hug, not one of those pat on the back type deals. he let me go, and i wanted to finish what i had to say to him, so i said:
me: "your music made me start seeing the world in color again"
and he got this look on his face like he really appreciated what i said, that it meant something to him, and he hugged me again, longer this time, (and it was absolutely lovely, and did i mention how totally gorgeous he is
). after that E talked to him for a bit, and then i asked him about his shoulder, if they were going to bandage it, and he said there's nothing they could do, just have to imobilize it. we talked to him for a good 15-20 minutes, and then he said "well the Hemlock's the next port of call", and i knew there were only three more dates on the tour-chicago and two in NYC, and im thinking "theres a city called Hemlock on the tour?".. so i say "The Hemlock?" and he says "yeah, it's near our hotel, the Phoenix, if you want to come down", and it daw ns on me that he's inviting us out to drink with him... i tell him i know where the Phoenix is so i can find it, and at that point all three of us sort of realize that there are three other girls waiting to talk to him. Not wanting to be greedy, E and i say our goodbyes, walk around the corner...and hug eachother cos we're just so happy
to make a long story short, we found the Hemlock, but by this time it was 1:30 am and bars close at 2 here. i was still feeling a bit ill, so i had an icewater, and we sat and talked to a fan who'd been at the show... around 1:45, in walks Gary (the drummer)
we walked up to him and i said "it's last call already!" and he just laughed ruefully and said "i know!" and we talked a bit. i let Ena do most of the talking, cos she loves Gary. at one point Ena said to him "can i be really forward?" and he said "sure" and she kissed him on the cheek - he laughed and said "if you were any more forward we'd have to get married"
he was really sweet to her, and really funny. we went outside and she had a pic taken with him and then she asked me "do you want a pic too?" i asked him if it was ok and he said of course, and so i got a pic taken with him. we talked to him for about ten more minutes, and then he made a call on his cell, im assuming to one of the band, and said "yeah Hemlock is closed... k see you back at the hotel". then he hung up, turned to us and said "this would be so much easier in London".
So we didnt get to drink with the band, but we met two Libertines, and i got a pic with one
i could have asked Carl for a pic - i had my camera on me, but it just didn't feel right at the time. i didnt want to
ask
him for anything - he's given me so much already, through his music (and the way he held his head up and was dignified through the Libertines split, which was a bit of a nasty affair. He was attacked, but he never retaliated).
It's just nice to meet the ppl who are sort of your heroes, and have your thoughts about them confirmed. I'd always thought Carl seemed really sweet, generous, down to earth, and appreciative of his fans, and thats exactly what he was in real life. Gary too.
anyway, here's a pic of me and Gary the drummer: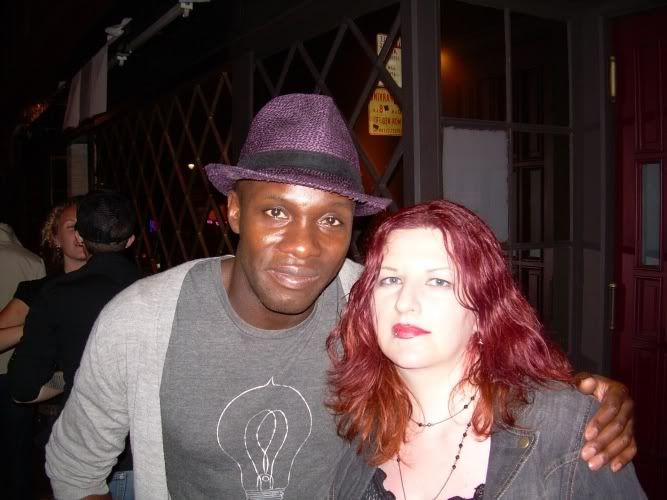 and here's a pic of Carl (on the right. on the left is bassist Didz Hammond)
both photos copyright myself
i still think about that night and smile... it was magical