Hi! A friend of mine recommended me to this site, and after a bit of poking around I figured it would be nice to join up. I've had cats since I was little, and recently my fiance and I adopted a little boy who was involved in a traffic accident. (He's fine, but we're wondering if that happening at such a young age is contributing to some behavior problems.)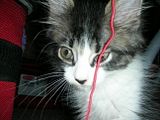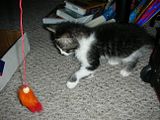 Since the pictures were taken a month ago, he's about twice as big now.
But yes, glad to be here!