First post here, and I want to introduce our family. Humans are myself, my husband and our 12 year old daughter.

Our cat family started with Bella, a pure white kitten rescued from the Oregon Humane Society 7 years ago as a kitten. She was playful, and sassy than, and is now sassy and fat! She is an indoor cat, who likes to go out on sunny warm days and roll in the gravel in the driveway, coming back in later brown.
Our second cat (who has dissapeared a month ago
was an orange male tabby. He was also a rescue from the same society, and was a year old when we adopted him three years ago. See the Crossing the Bridge forum for his goodbye post titled Our Simmy Boy.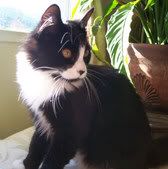 Our third cat is my absolute love, the apple of my eye, my forever kitty.
A fluffy black and white beautiful cat. She picked me one day when I was helping my father in law build a deck at a Grange Hall. She came over, introduced herself by climbing the 4x4 posts, and sharing my lunch. The rest of the day, she played amidst the power tools, banging hammers, moving beams and lumber, and wasn't afraid. At all! My father in law had seen her across the highway the other day, and so later on, I sadly walked her back to her house to the children playing outside. After giving her back, I told them if they ever decided they didn't want her, I would take her in a second. Turns out they had two other siblings to my Madison, and their mother had a batch of 7 newborn kittens inside. She was mine!
I couldn't do anything for the rest of the cats, but I would love and care for Maddie for the rest of her life! I am so in love with this cat. She was about 3 or 4 months when I took her home, and she is now a year and 3 months. June 16th, we were watching a movie and it got dark before we realized we hadn't called her in. She wouldn't come inside for the night, hunting is good at night you know, and she was hit by a car sometime before morning.
Please see my SOS post entilted my forever kitty. She is alive and healing well but was horribly injured.
We are looking ahead to adopting another cat to our family, but miss our Simon who we affectionatly called Big Boy.
Maddies Mom