It's a mystery to me who did this...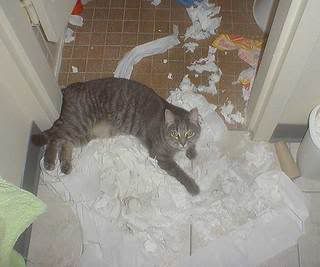 I think Zissou is stressed out because I'm packing.
Mind you, she does this anytime I leave the tp down. So I keep it on the towel rack... the top one, so this was honestly FIVE FEET UP. She had to jump that high and grab it, knock it down, and then destroy most of a brand new roll.
I laughed sooooo hard when I found this. She ran into the bathroom ahead of me and layed down like this, as if to announce what she did and prevent me from cleaning it up.