She's doing very well now. A very vocal, energetic kitten. She's on amoxicillin now, which has cleared her eyes up very well. :-)
"Whee!"
She makes this face quite a bit. Very chatty little lady.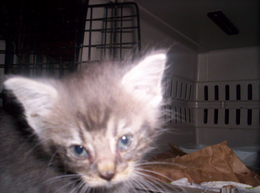 (She stayed in the pet taxi <plenty of room in there> while unsupervised until she figured out what those boxes of sand were for. She's figured it out and has free roam of the room now, but the bag is in there just in case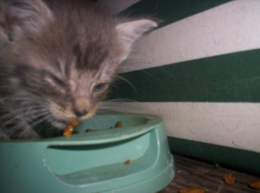 The business end of kitty in action.
The OTHER business end of kitty. Er... you don't want to see that in action. (She'll be switched to a ceramic dish when she's a little taller. The ones I have are too big for her right now.)
And Pudge, the house (p)resident, who has ninja like photo-dodging skills. I took about 20 of them and only got her face in 3. :P