Hi Everyone!
Recently we (my sister and parents and I) have been discussing having our cat Scamp shaved. I mentioned it to my aunt a few weeks ago, asking if she knew if you could do that, and she said she knew of someone down the road who gets their cat shaved for the summer except for his head, feet and tail, LOL!
So, I have a few questions :p First, is this a good thing to do? He seems like he gets hot a lot, because he goes and lays in the basement on the cool cement floor. He is very chubby and sheds a lot, so I think this would cool him down, but besides hearing of those neighbours, I haven't really heard of people doing this with cats.
Second, is it possible to get them like.. a 'buzz cut' that humans get? where its very very short all over (except head, paws, tail..) but not completely bald?
and last but not least, how long does the hair take to grow back? Because we don't want him to be cold for winter (although I can't imagine it would take that long, but you never know :p)
(ps. we have relatives who are groomers , so we would take him there, not do it ourselves
)
anyone do this? thoughts, tips.. anything? :p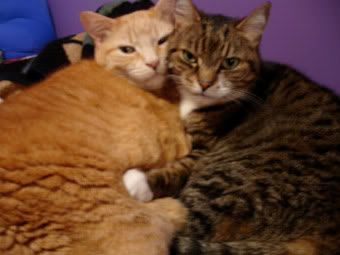 (Scamp - the goldish one :p)