A year ago today we brought in a sweet kitty that had been abandoned by her owners. They moved to another province, leaving her behind to fend for herself. She started coming around our place and my aunt started feeding her. After deciding we'd bring her in if we could find a place that offered low cost spays/first vaccinations, I started asking around. The shelter I now volunteer at got back to me and I was able to get a voucher to get her spayed. A year ago today we brought her in, took her to the vet for her vaccination and FeLV test, and she's been with us ever since. Some of you may remember that there were a couple of times I thought I'd have to rehome her as she wasn't gettin along with my other kitties. But she's come such a long way from the hissing, growling, spitting, attacking kitty we brought in. There's still tension between her and Chester and Piper, but she has a friend in Ariel (who used to afraid of her!). She's such a happy girl now, and I'm glad I was able to 'save' her. She's blessed my life so much.
Meowmy loves you Nala.
Nala a couple of days before we brought her 'home':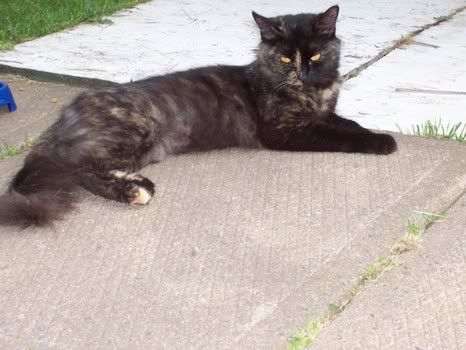 Playing with some 'nip (look at how skinny she was!):
After her spay surgery. She is the only one of my four that had to wear the e-collar; she wouldn't leave her stitches alone! Poor girl was so miserable when she had to wear it (and it was a fight getting it on her!
)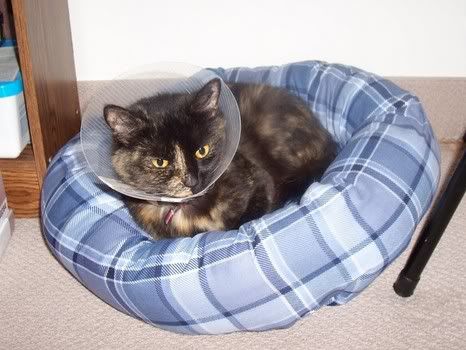 And here's my girl now, fattened up, and oh so fluffy. She's meowmy's pretty little tortie.