Hello fellow cat owners. I am obviously new to this forum but I am definatly not new to cats. I have 2 wonderful cats at home and they are a big part of my life. I've worked in a pet store for over 5 years so I'm fairly familiar with cat products, cat foods, and cats toys. I hope I can help use some of my knowledge to help others on these forums as I have already learned a lot from just reading threads here.
Now about my cats.
Naraku, my boy, is an Oriental with a big mommas boy complex. The more reason for me to love him. He follows me everywhere around the house and as soon as I sit down you can find him on my lap. He's a talker and loves to play. Here's a picture of him when he was a kitten.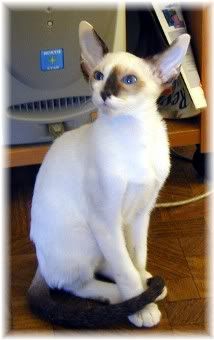 I will be uploading some recent pictures of him in a few days as his colors have changed a lot and he is a lot bigger. Naraku is about 1-2 years old.
Nepenthe, my female, is a siamese mix. I got her from the pound. Apparently she was given to the pound by her previous owner because her previous owner was getting married and they decided to keep her soon to be husbands kitten rather then her own cat. It's kind of sad someone could give up there cat like that. But Nepenthe is truely a gem. I don't think I would have been the same if I had never adopted her. She is definatly the queen of the house. Spoiled and loving it...I think that's her motto. She can always make me smile with her cute little chirps and meows. Especially when she drags her cat toys to my feet like she wants to play but then walks off when I pick up her toy. I guess she just likes giving me presents. Nepenthe is about 7-8 years old and dominates over my little boy, Naraku. I will be posting pictures of Nepenthe in a few days also. Need to upload some pictures.
I hope to be getting another Oriental soon or possibly a Main Coon. Anyways glad I found a nice Cat community.