A few days ago I noticed a tiny cluster of 3 or 4 bumps on one of Tigger's ears. Today they are scratched off and there are bleeding sores in their place. There are also two new spots - one above and one below her left eye. She keeps scratching them and I'm trying to watch her and keep her from irritating them further.
We already have a vet appt for Tuesday at 6pm... this is her regularly scheduled vet appointment and we moved it up a few days when we originally saw the bumps a couple of days ago. Now I am more concerned because of the new spots.
Has anyone seen this before? Any chance it's contagious (I have another cat in the house). Can it wait until Tuesday? I'm freaking out... I've never had a cat with any bleeding sores before!
Some pictures... my apologies if these are large but I want the detail to show...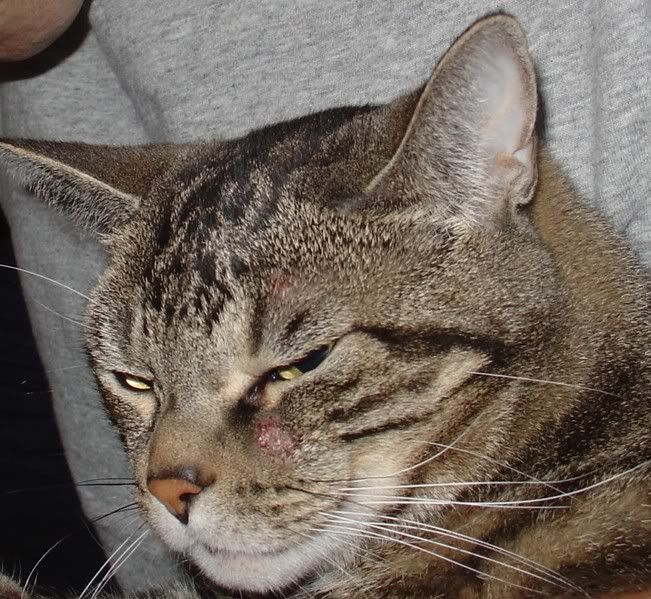 Any advice is greatly appreciated!!!
Edit -
More information:
-we are a two-cat, two-person household - no kids, no outside pets visiting, no ppl visiting
-they are 100% indoor cats and have not been out of house since they were boarded at our vet in Dec 2005
-Tigger has been losing weight gradually over the last 6-8 months and is now very lean. Before that she was a little 'chubby' but she now runs around a lot more since we have a second cat. Callie, however, is gaining weight like crazy and we can't figure out how to get her to be more trim.
-when they play/fight/roll around, Tigger is generally the agressor and Callie would stand the most chance of getting hurt (but she generally just hides from Tigger or runs to me for protection). I don't think these wounds/sores are from a cat fight or anything like that.