The kitty problems and blessings began just a month ago. I heard a funny sound on my back porch and went out and found a nearly dead emaciated cat laying there. I put some food down and he gobbled it as fast as he could absolutely gobble. He could barely even walk. I went and got a crate and moved the food into it and he went in the crate. I shut the door and called the vet. He saw us right away.
My new kitty was dehydrated, starved, and covered with a flea bite skin infection. My vet did tests and pronounced him free of major diseases, but said that he had been badly abused and bruised and starved. He said he is sure he has been on his own for a long, long time. Bob is a neutered, front declawed, 2 year old male.
Here is Bob's picture.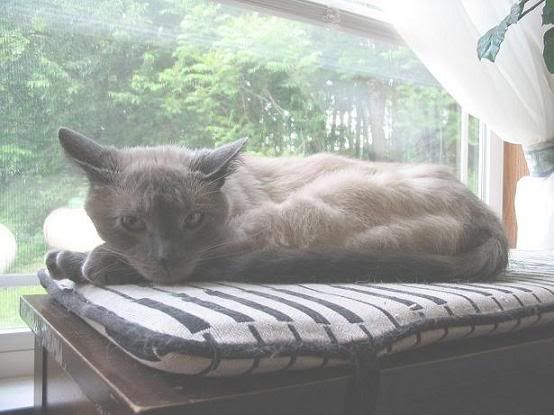 I very, very slowly, over about a week, introduced him to my household which includes Samuel, the cat, and Isabel, the Dachshund.
Isabel loved him right away and he showed no fear to her at all. I think maybe it is because Isabel is so gentle with him. She seems to sense he needs care right now.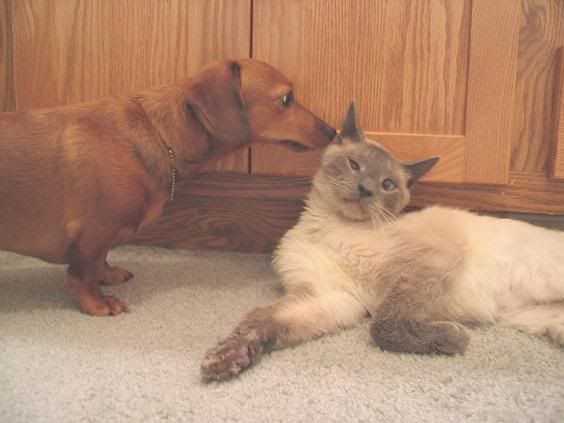 Samuel was a little more touchy about it. He said some major bad words and told him there was no way he was coming into our house.
The first three days, I kept Bob in the bathroom and Samuel and Bob could see each other under the door. On day 4 Samuel stopped hissing at him everytime he looked at him and so I moved Bob to the living room in a crate for 2 days. Samuel seemed to warm up to him a bit and the next day, I let Bob loose. Other than some posturing from Samuel, everything went well. Bob has remained passive.