Don't know how many of you were around while Gary and I still lived in the RV. But we've been in the house for almost two years now! In Feb of this year we had to head South, and decided the best way to manage it was to take the RV with all the kitties. Ming Loy had never been in the RV, but all the other kitties lived there for some time, though never while driving anywhere.
We'd taken out all the furniture. So we packed up what we needed, and lugged most of the cat trees out to the RV. We cut several holes under the bed (big storage space under there) so they'd have a place to hide while driving, and we filled it with beds and boxes so they'd all have hidey places.
We were worried about how things would go - but they LOVED it! They were scared while driving at first (though Spooky and Flowerbelle came out for the drive back up from FL to NJ). Every time we stopped for gas we'd check on them. Most of the time they were just sleeping, and after the first gas stop they got used to what was going on, and they'd come out to drink or use the litterbox or whatever.
Here are some long-ago promised pics:
Flowerbelle at her perch on top, Tuxie's rear-end. The cat tree is where the dining room used to be.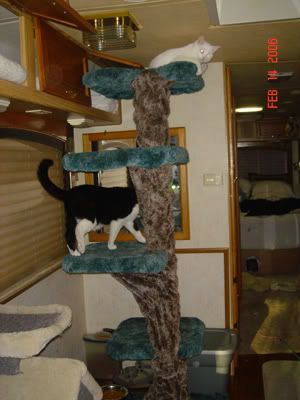 Cat trees and litter boxes where the living room used to be. And that's Lazlo KNEADING on the sheepskin on the driver's chair!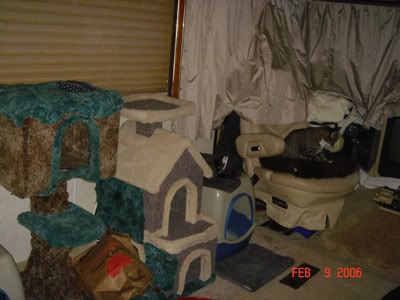 Tuxedo quickly assumed control of the entire front window and dash (doesn't he look healthy!!!!!!!!!!!!!):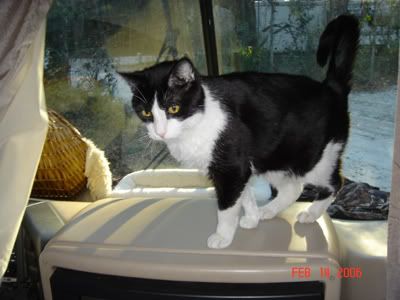 Flowerbelle on top, Ming Loy in the middle on the cat castle next to the front door: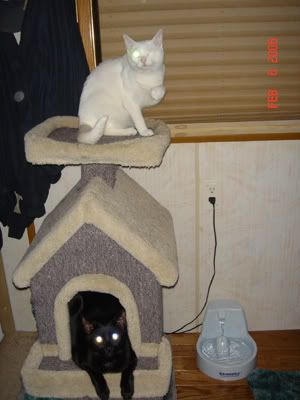 Flowerbelle peering out through one of the holes cut under the bed: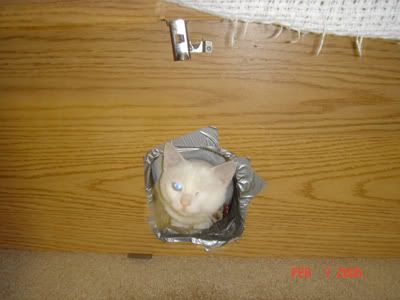 And... .Gary tried to take some pics under the bed. He just reached his hand under there. They didn't come out too well, but here's part of Tuxie - obviously looking relaxed while sleeping! You can see some of the beds/baskets we had under there: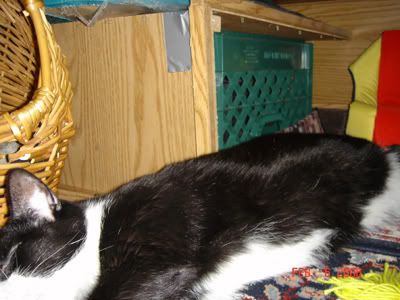 And, last but not least - another not great pic of under the bed. This is looking the other direction from the last pic. You can see more of the beds/boxes we had under there for them to hide in: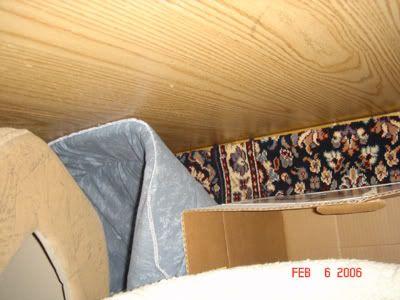 None of them stressed over the trip at all, and we'll probably take them all out again before the year's out!