i gave the kittens their first bath today (they needed it bad) and look what they did!!!
the gave me alot of little scratches and welts on the bottom of my arm..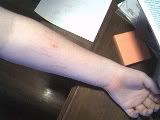 they pretty much butchered the top part of my arm...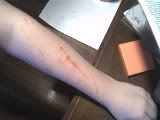 i'm about to go clean it right now. i dont know if i'm more mad at them or if they are more mad at me..
geeze it burns!