Sorry all...I went a little camera crazy the other day! I'm afraid you'll have to suffer through these pics!
I got a tunnel for my two as a treat...and they absolutely love it (Lucky most of all!). During the day the tunnel ends up moving all around my house as they surf and roll around inside it. Here's Lucky staking her claim:
hiding from me (i had her hairbell meds!)
"you can't see me meowmy!"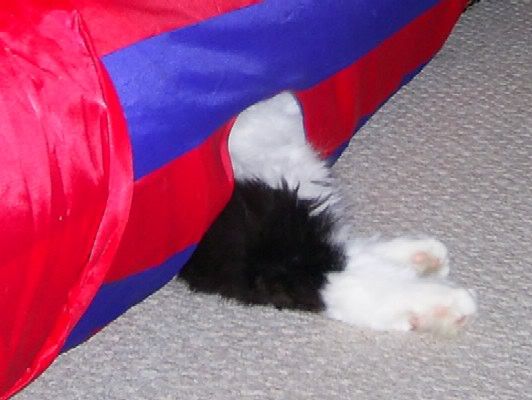 And meowmy's little helper...(keeping me from moving the laundry!
)
Oh...and here is Rambo with the remnants of the Panic Mouse...it lasted a grand total of 2 minutes and 10 seconds in my house before Rambo grabbed it and tried to run off with it (smashing the base into the wall).