Well, for the past few months, I have been feeding a tomcat stray/feral male. He just showed up one day and has been eating off and on at my house. I can't touch him but I can now sit approx 5'-6' from him if I move slow and talk to him quietly. He has a hurt foot. Last month, he was bleeding profusely from it but he would run if I got near him, so I just let him be since there was not much I could do.
It is nearly healed but he limps.
I think he got cut on glass and there might still be some in his foot. When it first happened, I thought I saw a sparkle of glass but I couldn't be certain. I am encouraged today since he let me near him as long as I was sitting down. I hope to gain his trust so I can doctor him. It was the bottom of his pad that was injured. When he walks on rocks, he does not put it down. On grass, he hobbles but gets around ok. But's it still sore.
He is a pretty guy in these pictures but in person, he is a little beat up looking. A tuxedo guy..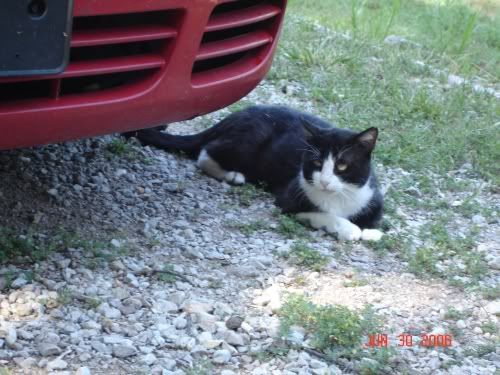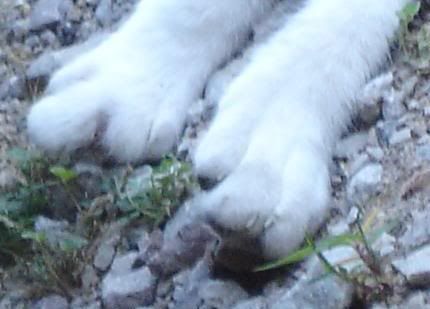 See the toe on the rear foot. It's all swollen or something. It's hard to tell. This is a photo blowup..
He looks nearly exactly like Jimmy and Socks..hehe Hubby thought he WAS Socks yesterday and he came in to tell me she was limping. I looked and it was the stray....
Jenn