Well, hubby built the kitties a kitty shelf yesterday and they love it!!!
This is a pic of Honey and Mama exploring on it..... They were the first to check it out..... Since it was new, they all sat and stared at it for an hr or so before venturing up the ramp.....
Here's Jimmy looking at the cats up there this morning.....
"hmm, do I want to check that out???"
(Actually, very few were in the house last night. I suspect they all slept up there or at least some of them. Jimmy stayed outside all night last night so he has probably already been up there.)
(He is doing great by the way Elly..... He is quite the tame little guy...)
And here's Star....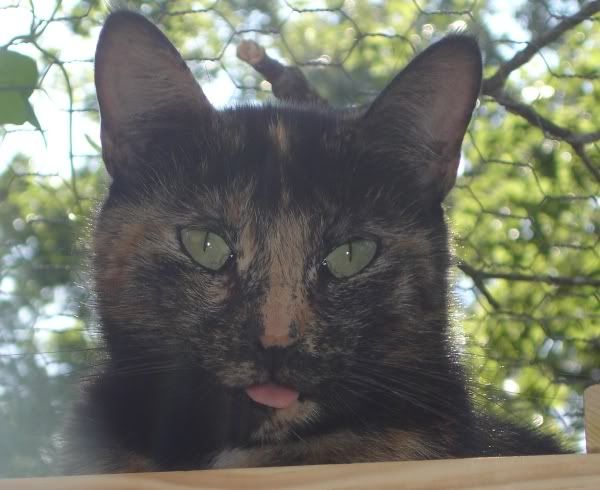 Then this morning JJ, my three legged wonder got up there and the incline on the ramp was too steep for him to attempt to come down.. He was scared...
So I made him a handicapped ramp!! It consists of three old 2x6's that I had laying around, He tried and slipped a little and promptly jumped back to the shelf for safety . So......I tied a rope around it for traction for his three little feet...... He loves it and uses it.. He feels safe again now......
This is the handicapped ramp..... and that's JJ on the right side of the pic with Honey.. Honey is very daring. She hangs from the bottom of the steep ramp........ and dashes all over it... She is something else......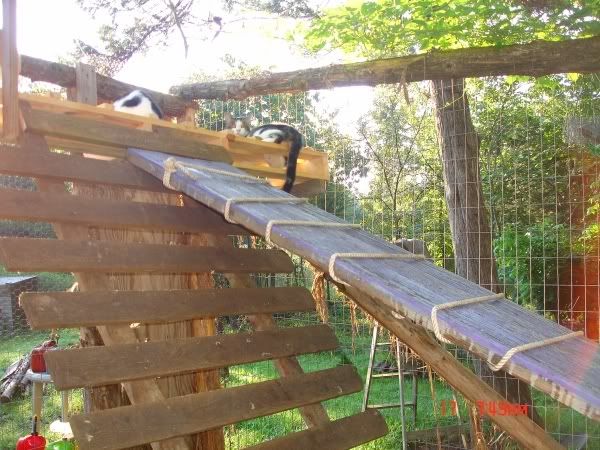 We've been clearing land too for the enlarged animal area...... These next two pics are a before and after...... I had forgotten how horrible it was....... These next three pics are of the same area......
This is an old pic two yrs ago of the outhouse the people used that previously lived here and is the exact same area in the last pic..... It is just a different season of the year. I have posted this pic before but the comparison is remarkable......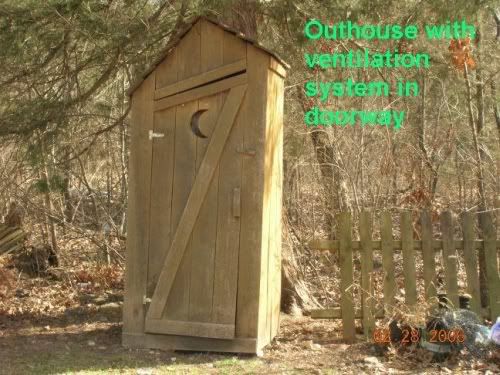 And this was taken right before I started clearing this area and is also the exact same area as in the lat pic. The outhouse was long burnt.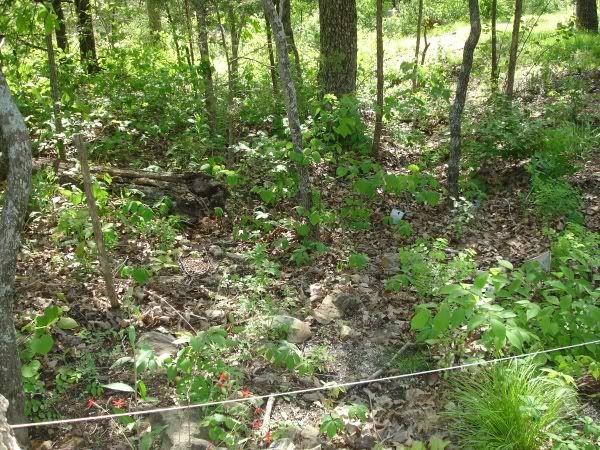 This is after.......and I am so proud of it. It took three weekends and a lot of back breaking labor. I am going to plant more rye grass here because it is good for the animals to munch on..... I have have it established in some planted areas. I have my work clothes on now and am fixing to head out and keep going toward the creek....... Eventually it will be clear down to the creek..... One day it will look like a park...
See that old fence by the outhouse? That is the recycled ramp for the kitties!!