Oh my gosh, I am soooooo excited. For those of you who don't know Jimmy Cat, he is a cat I adopted from one of the members here. He is absolutely feral and I adopted him on April 19th. He had been in foster care for a year.
He had never been in a home type situation before so we are his first family and the only ones he will ever have... He had avoided human contact except for the first few days he was with us and I honestly think he let me pet him then because he was terrified.
So several months have passed with this wild kitty man living in my house. I had given him a closet for a cave/den and put his crate in there and I also put his food bowl and water in there. At night when we would be in bed, he would explore the house and he took a liking to the laundry room and at night would spend time in there, but lately he has been spending more time in the room where his closet is. And that is because I have three baby kitten who are living in there with him. He has nearly adopted one of named Minny. She is about 10 weeks old.
But two days ago, I sat in the closet with Jimmy and put some raw steak in a saucer and placed it about 3-4 feet from him. I left the closet with him close to the steak and he ate it and loved it.
Ever since then, he has been more open with me. I do not try to touch him and I have given him his own space. I read a thread by Hissy that said to blink slowly and lower your head when you look at him and that is feral cat talk and you are being submissive to him. I do that and he does it back to me.
But anyway, tonight I went in the bedroom and he was sitting on the dresser in the bedroom. He stayed there and did not run. I took this picture of him. He stayed there a few minutes and I talked to him as I sat on the bed. He stayed there long enough for me to get two pictures of him on the dresser.. That is just amazing. And I was about 4 feet from him when took this. This last week he has done this a couple of times but when I break eye contack or turn my back on him, he dashes to this closet. Tonight when I turned away and walked to the bed and sat down, he remained there for a few more minutes. I caught a picture of his tail as he jumped down and sent that to Eileen..... hehe
Isn't he cute peeking around the starch can???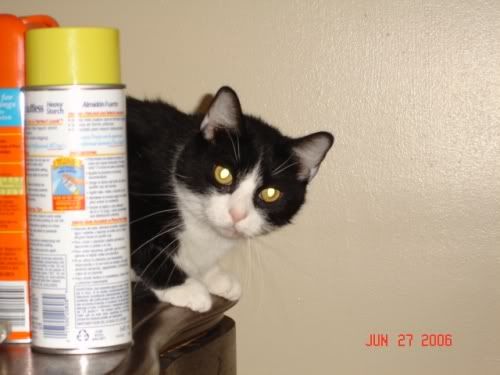 When he jumped down and went to the living room and NOT his closet/den/crate. A few minutes passed and he came back to the bedroom and got in his closet. I was already back in the living room. But I was excited by this because he was actually out in the open with me [not hiding or running]. So a few minutes later, I went back to the bedroom and he had gotton back on the dresser again. He sat there a moment while I talked to him and then he jumped down and went BACK to the living room AGAIN. I moved his covers and put them in this spot because the last week I have noticed he really likes to lay on the dresser. So I fixed him a bed up there and gave him three bites of cheese for being a good boy. Then when I returned to the living room, he was sitting under the table with another cat of mine named Socks. I sat down carefully on the couch and just watched him talking quietly to him and he listened to me. He was alert and not afraid... For the first time!!!
But then I spooked him. I walked toward him to get the camera and he went back to his room where his closet is located. I waited a few mintues and went in there and took this picture. And when I took this, he stayed in the window. I left the room and he remained in the window. He did not run away. He was still there when I left the room.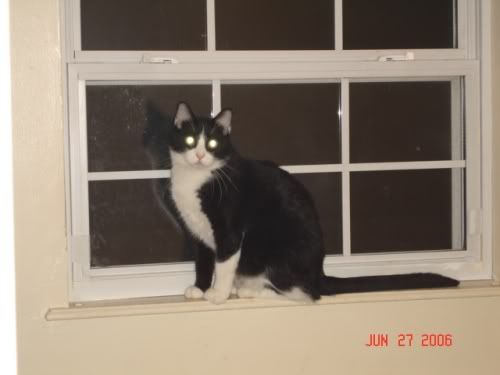 The reason the window picture is exciting is because while he was in foster care for the year he had no windows and the woman I adopted him from wanted so badly to see a picture of Jimmy looking out his window so this is for Eileen who loves Jimmy too. I knew he sat in the window but he would make a mad dash for the closet if me or my husbby got close to the door so until now a picture of this was impossible. And this took me totally by surprise tongiht. Previously, he knew when I was coming down the hallway and he would get in his crate in the closet so he would not be out in the open with a human around. The fact that he is staying put when I enter the room tells me he is trusting me.... He is a beautiful boy, more so than these pictures. I changed the megapixels on my camera so his next pictures will be clearer. This was vega. I have it set to 7megapixels now. But he is georgous and a huge boy.
But Jimmy is coming around. And one day he will truely trust me. But this is a breakthough for Jimmy. He is finally feeling comfortable enough to be with out of his closet and have ME in the same room.
Something that might have helped Jimmy, other than the steak, was the kittens. I am in there constantly playing with them, holding them, kissing them and loving on them. Jimmy sees this and he is used to my odor on them.
This is exciting stuff to me and I will have to be careful not to over whelm him with my zestfulness. I must just keep doing things that way I have becuase I want him to progress forward and not get scared and revert back to his hiding stage. He might anyway but if he does, he will quickly come back. He wants to trust me...
In my opinion, there is nothing more rewarding than gaining the trust of a true feral adult cat. There is no closer bond.
Jenn