I seem to have done things in reverse order, posting a thread in another forum before discovering this one! Sorry about that! I've enjoyed reading here so far, and am looking forward to settling in as a (hopefully) contributing member.
I suppose I should introduce the cat/s too, huh?
I currently only own the one, Callie (aka Callisto, Calimonster, Monster, Callie Cut It Out and Argh!), who is a five or six year old calico that we adopted from our local shelter. We're also currently in the process of adopting a second cat from a local rescue. We have our eyes on this handsome fellow here (
http://search.petfinder.com/petnote/...?petid=5940522
), as the rescue recommended him to us as a good fit for our household, and are waiting to hear back from his foster family about setting up a getting to know you meeting. With any luck that will work out and by the end of the next week, we'll have him home with us to meet our resident terror.
And now let me see if I can figure out how to include pictures...
Taken ten minutes ago: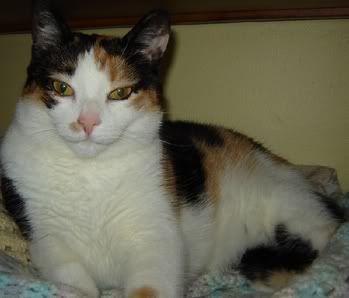 Taken two years ago, the week after our son came home from the hospital: