In September '01, my little boy Caleb came into my life as a newborn rescued from under my grandparents house late one night. He weighed less than four ounces, my little mouse. I was living at home during this time just after nursing school, and cared for him around the clock as such tiny babies require. In this process, my Dad, former self proclaimed cat hater fell head over heals in love with him. He was absolutely the light of his eyes. When Sierra and I moved here to Emerald Isle, Caleb stayed with him.

Precious Caleb was so free and independent with the most gentle spirit. He had a little crook on the end of his tail which I adored, never really knowing why it was this way, just his special trait. After spending a while loving on him, it just seemed every cat should have a crooked tail. When he was a baby, Sierra didn't know what to think of him and if she was coming through the room where I was feeding him, she would go all the way around the longest route possible keeping a careful eye on him in a cute little way.

Caleb's free nature required his short time outside each day, this brought him such joy and fulfillment. He would bask in the sunlight or find a little shady spot to keep watch over his yard over which he was quite territorial. Caleb rarely used a door. When he was ready to go out, he got in the bathroom or kitchen window to indicate his wishes, and when he was ready to come back in, up would pop Caleb back in the window. He was spoiled rotten and would agree to eat his meal only if you held his bowl for him while he ate. He was such a sweetheart.

On his daily stroll last evening, Caleb was hit by a car and has gone to Heaven. I love him so much. When inside, he enjoyed being in a room away from the other kitties, and I'm so thankful for the most recent time we were together when I laid on the bed with him just holding him. Receiving this call last night, I could tell by the tone that something was horribly wrong, desperately hoping let it be someone else. Not Caleb. But he is gone. Gone. I can't wrap myself around this, the permanence of death.

How I wish I could take this back, just to be there to have him in, he would be safe now. I forgot how it felt to hurt this deeply and can hardly breathe under this weight. Sierra is such a precious comfort, having not broken physical contact since the tragedy. With Sierra and Serenity here at my side, I realize in relative terms I should be thankful. My sweet babies are my heart.

Please honor Caleb with us.

Here is my little boy in his favorite spot, Caleb's coffee maker.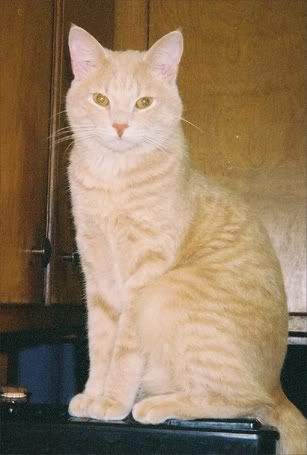 Half asleep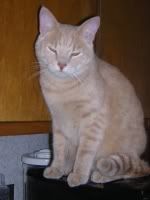 Nap time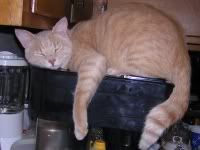 Beautiful boy